The 2018 Golden Globes List of Director Nominees Includes Zero Women
Did the Hollywood Foreign Press somehow forget about Patty Jenkins and Greta Gerwig?
---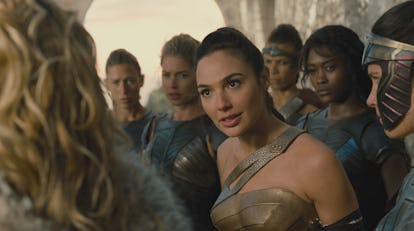 Warner Bros. Entertainment Inc. and Ratpac-Dune Entertainment LLC
Women have been famously kept out of the boys club that is Hollywood's top directors—and even more so as of late, as the year 2016 saw the percentage of women directing the year's 250 highest-grossing films drop to just seven. (That number is at least bigger than four, which is the percentage of those 250 films that involved a female cinematographer.)
This year, however, we seemed to have finally reached a tipping point where women were actually allowed the opportunity to step up to the plate, and to succeed wildly when doing so. To recap: This was the year that Wonder Woman, directed by Patty Jenkins, became both a runaway box office hit and the best opening ever for a female director; that the actress Greta Gerwig made her directorial debut with Lady Bird, which was widely declared to be "perfect"; and, most recently, that it was finally confirmed that Big Little Lies, arguably this year's most hype-inducing show, would be getting a second season, which this time around will directed by a woman.
The list of Golden Globes nominees announced this morning, however, reflected none of this apparent progress—which is particularly disheartening, given that compared to the rest of the awards shows, they're known for their openness and breadth. Still, the five names listed in the Best Director category all belong to men: Guillermo del Toro, for The Shape of Water; Martin McDonagh, for Three Billboards Outside Ebbing, Missouri; Christopher Nolan, for Dunkirk; Ridley Scott, for All the Money in the World; and Steven Spielberg, for The Post.
This isn't to say that none of the above directors are good, nor that their movies aren't worthy. In fact, according to its star Meryl Streep, The Post shines an all too timely light on workplace sexism, and Scott made an extremely valiant last-minute effort to replace Kevin Spacey in All the Money in the World with Christopher Plummer so that the movie wasn't fronted by an alleged predator. (There are only two women with speaking parts in Dunkirk, which we'll give Nolan something of a pass on given the film's historical context—though there's still no going back from the fact that he had no idea how famous Harry Styles was when he cast him.)
But within this category there is surely room to give someone like Gerwig her due—especially with all the praise surrounding Lady Bird as both Rotten Tomatoes's best reviewed film of all time and a critical favorite—or, as the New York Times put it, "big-screen perfection." The Globes did nominate it for Best Motion Picture, Musical or Comedy, as well as for Best Screenplay—all of which Gerwig was the force behind, begging the question of why she wasn't on the list with the likes of Ridley Scott, of whom one wonders if he got a Globes nod solely based on the gimmick of reshooting his film with Plummer in record time.
Wonder Woman also earned a whopping 92 percent on Rotten Tomatoes and generous reviews, and while it dominated the entire conversation around summer movies this year, it gets no shout-outs anywhere on the Globes list. This seems to be an oversight particularly when it comes to Jenkins, who has gone from being most on the map back in 2003 with Monster to becoming the highest paid female director of all time with the movie's upcoming sequel—not to mention a pioneer when it comes to female-led superhero movies.
Gerwig and Jenkins were definitely the most snubbed, but while we're on the topic, there are a few more usually Globes-approved women directors who also didn't manage to make the list: Sofia Coppola, who won the award in 2003 with Lost in Translation, also scored a critical favorite with The Beguiled, or Dee Rees, whose film Mudbound just might be the first Netflix feature to make its way to the Oscars, which would additionally be a rare awards season boon for people of color. All in all, the only women directors who did manage to get some nods were Angelina Jolie, whose First They Killed My Father is up for Best Foreign Language Film, and Nora Twomey, whose The Breadwinner is up for Best Animated Feature.
This summer, the Venice Film Festival only accepted a single film directed by a woman into its main competition, predictably causing a backlash which fell on the industry's still seemingly deaf ears. Putting just two women on a wide-spanning list is never a good look, but it's particularly negligent and noticeable when the announcements come on the heels of several months of speculation of what awards season will look like this time around in the wake of the Harvey Weinstein scandal, as the former mogul was such a force during the awards seasons. (In fact, some are already going so far to say that he's ruining the 2018 Oscars race.)
The Globes have never been a reliable indicator of Oscars prospects, but as an awards show known for having a broad perspective, their negligence when it comes to acknowledging what just might have been a breakout year for women directors is undeniably disappointing. (As is their decision to have not a woman hosting the show, but instead yet another Jimmy making the Weinstein jokes onstage.)
Related: Jimmys, Step Aside: The Oscars and Golden Globes Need Female Hosts This Year
Greta Gerwig Confesses Her Cinematic Crush: