Meryl Streep Says The Post's Portrayal of Workplace Sexism Is Still Relevant Today
"We don't have parity. We're not even close."
---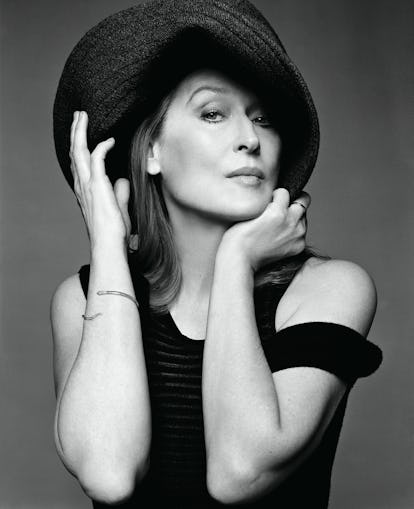 Two years ago, we had the dueling journalism dramas Spotlight and Truth released during awards season—and that was even before "fake news" became a conservative rallying cry. Now, Steven Spielberg is offering his entry into the genre—and into next year's Oscars race—with The Post, his upcoming film about the Washington Post during a particularly fraught time in its history: over the course of its reporting on the Pentagon Papers in 1971. Since The Post began screening earlier this month, its star, Meryl Streep, who plays Post publisher Katharine Graham opposite Tom Hanks as Ben Bradlee, has (of course) been singled out for particular praise, because Meryl Streep is a national treasure. (She also was just announced as the National Board of Review's Best Actress, one of three early accolades awarded to The Post, including Best Actor for Hanks and Best Film.) And since it began screening, critics and the team behind The Post alike have also pointed out its particular resonance today; after a screening at the Directors Guild of America in West Hollywood Monday night, Spielberg, Streep, writer Liz Hannah, and Hanks all weighed in.
"I just felt there was an urgency to reflect 1971 in 2017 because it was very terrifyingly similar," Spielberg said, according to Variety. And while the director may have been referring to the two administrations' parallel efforts nearly 50 years apart to suppress thorough, investigative journalism, Streep also noted the similarities in gender politics between the two periods.
"I try to tell young women who weren't alive then how different it was very recently, and it still is, in those leadership circles," Streep said, also per Variety. The 68-year-old actress, who has been nominated for 20 Oscars and won three of them, has long been outspoken on the subject of sexism in Hollywood, telling the BBC it made her "a tiny bit enraged" while promoting Suffragette. "Women are graduating from film schools, law schools and medical schools in equal numbers as men but they are shut out when they get to the leadership positions," she said at the time, according to the Telegraph.
"We've filled up the bottom of the pyramid, but where it all gets decided, we don't have parity. We're not even close," she added Monday night, referring to the persistent dearth of women in leadership positions at their workplaces and echoing her earlier remarks. "It's relevant to today."
Streep studied Graham's memoir, Personal History, and consulted with the late publisher's family to familiarize herself with Graham's life. Graham was publisher of the Post from 1969 to 1979, and she became the first woman CEO of a Fortune 500 company; Streep noted how little has changed in the intervening 50 years since that milestone achievement. While the film focuses on the central Pentagon Papers drama, it also, by all accounts, highlights the sexism Graham confronted in the course of her work at the Post.
"There's something very relatable to a woman finding her voice," Hannah added.
Edward Norton reveals he's a "sucker" for Meryl Streep: