Patty Jenkins Will Reportedly Make $8 Million for the Wonder Woman Sequel, Becoming the Highest Paid Female Director
Due out December 13, 2019.
---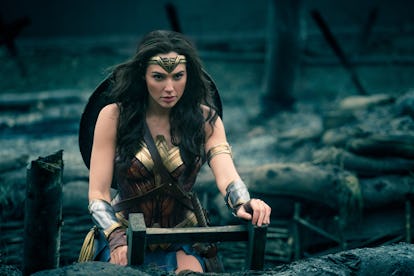 Clay Enos/Warner Bros.
The Wonder Woman sequel isn't out for over a year, but it may have already broken a record. Director Patty Jenkins has just finalized her contract, reportedly making her the highest paid female director of all time, Variety reports. While her exact pay sum isn't yet known, it is estimated to be around $8 million. Jenkins will also producer, and is said to be co-written the script with comic book writer Geoff Johns.
If the figure is true, this wouldn't be the first record Jenkins has broken, specifically for Wonder Woman.
The film not only opened to $100 million domestic, making it the best opening ever for a female director, it was also the highest-grossing live-action film by a female director of all time. In case there was any doubt as to Wonder Woman's cultural relevancy, it also holds the record for the most tweeted about movie of 2017. Outside of those titles though Wonder Woman is also a rare instance of an action film receiving critical praise — not just on Twitter, either. Wonder Woman currently holds a 92 percent rating on Rotten Tomatoes, as Variety points out.
"Wonder Woman is a feminist, of course," Gal Gadot told Entertainment Weekly, speaking to part of why the film is so loved. "I think people have a misconception about what feminism is. People think hairy armpits and women who burn bras and hate men. That's not it. For me, feminism is all about equality and freedom and [women] choosing what we want to do. If it's salaries, then we get paid equal to men. It's not men vs. women or women vs. men."
Wonder Woman is told through a larger lens than just feminism though, as Jenkins revealed to Rolling Stone. "We need a new kind of hero. It's not easy to be a hero. You do it because of what you believe, not because of what other people deserve. I wanted to talk about the fact that we can't defeat the evils upon us by slaying one villain. We're facing a time where each country has such legitimate complaints against each other and this has all been going on for so long that if we're going to come to a world of peace in the future, we have to lay down the past and become responsible heroes ourselves. Often what that requires is love and peace instead of battle. That is a hugely important message to the world right now from my perspective."
The next installment of the film is scheduled to arrive December 13, 2019.
Related: James Cameron, Do We Really Have to Explain Wonder Woman to You?
"Wonder Woman" Star Gal Gadot Was a Very Reluctant Pageant Queen: