"Wonder Woman" Director Patty Jenkins Could Reportedly Earn Record-Breaking Salary to Helm Sequel
A superhero feat, indeed.
---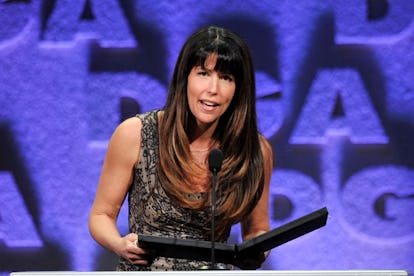 Kevin Winter/Getty Images
Patty Jenkins broke multiple records as director of this summer's box office smash Wonder Woman, and, as the focus shifts to the film's already-greenlit sequel, she's looking to break a few more.
Deadline reports that, as of Thursday night, Jenkins was in final negotiations to direct Wonder Woman 2, which has already secured Gal Gadot to reprise her role as the titular character. The film has been given an official release date of December 13, 2019. According to the trade mag, Jenkins has yet to be confirmed as director because she reportedly is asking for a hefty pay raise on par with that of a male director of a successful superhero franchise. Warner Bros. is reportedly on the verge of agreeing to Jenkins's terms and paying her what she deserves after the massive success of Wonder Woman, with a studio source telling Deadline they were "confident the deal will be reached soon."
Per Deadline's sources, a first-time director of a comic book movie earns $1.5 million to $3 million, while those with more experience in the genre, like Zack Snyder, who is directing the upcoming Justice League, could receive $10 million, plus a significant cut of the box office earnings. During its opening weekend in June, Wonder Woman raked in more than $103 million in the U.S. and has since gone on to gross nearly $800 million worldwide, according to Box Office Mojo. If Jenkins is awarded the pay raise she's asking for, she could become the highest-paid female director in Hollywood.
Upon its huge opening weekend, Wonder Woman became the first female-directed film to surpass $100 million in domestic first-weekend earnings. Not long after, it became the highest-grossing live-action film by a female director of all time and the most-tweeted-about movie of 2017, and, in the span of less than a month, it topped Suicide Squad as the most profitable DC Comics film ever.
Jenkins has previously expressed her desire to reclaim her spot at the helm of the Wonder Woman franchise. In early June, she told Conan O'Brien that she was already on board for a sequel. "We're working on it," she said. "I hope to, I love it, I love the world, and we all are really excited about it." And right around the first film's release, Jenkins spoke to Entertainment Weekly about her ideas for the follow-up. "The story will take place in the U.S., which I think is right. She's Wonder Woman. She's got to come to America. It's time," she said, revealing that although she didn't originally want to be tied to a multifilm deal, she soon changed her mind. "I'm not a big obligation person when it comes to art. You want to do a movie like this because you believe in it," she said. "Then I had this revelation in the middle of the night: This is your dream cast, you've created a character that you love, and you can say anything you want in the world right now." Jenkins added, "I realized that Wonder Woman 2 is its own great movie…It's a beautiful story to tell, an important time to tell it, and with people that I love."
Related: Gal Gadot Listened to Beyoncé to Prepare for Her Wonder Woman Audition
11 Fierce Actresses Who Have Dominated Action Movies:
Gal Gadot: Wonder Woman on the Red Carpet and Beyond
The young actress first arrived on the scene at the CW Network celebration of its new series The Beautiful Life: TBL dressed in flirty strapless little black dress paired with an oversized tan corset belt. She completed her look with a pair of black cross-strap platform sandals.

Getty Images
At the Los Angeles premiere of Fast & Furious, Gadot looked fresh faced as she posed on the red carpet in a mini purple strapless dress.

Getty Images
The actress appeared at the London World Premiere of Fast & Furious 6 in a edgy black beaded gown that featured a plunging neckline.

Getty Images
On the red carpet of the Los Angeles premiere of Fast & The Furious 6, Gadot showed off her incredible figure in a ombre grey gown featuring a plunging neckline snd thigh split.

Getty Images
The actress opted for a sexy playful look as she posed on the red carpet of the Los Angeles premiere of Riddick wearing a black leather shell top, black and white abstract- patterned circle skirt and a pair of scrappy black heels.

Getty Images
The actress looked smoking dressed in a David Koma cutout little black dress while attending the Entertainment Weekly: Women Who Kick Ass panel at Comic-Con.

Getty Images
At the UK Premiere of The Last Witch Hunter, Gadot dressed in a sleeveless little black dress that featured a bit of fabric draping on the left leg. She completed her look with a pair of strappy sandals.

Getty Images
The actress looked flawless at the premiere of Batman v. Superman: Dawn of Justice in a Balmain cut-out mini dress that showed off the star's toned figure. Gadot topped off her outfit with white Sophia Webster sandals.

Getty Images
Gadot in Dolce & Gabbana at a photo call for Batman v. Superman: Dawn of Justice in Mexico City, March 2016.

Getty Images
Gadot looked ravishing at the European premiere of Batman v Superman, styled in a scarlet Prada gown with a plunging neckline and embellished shoulder straps.

Getty Images
The actress wowed on the red carpet of the Mexico City premiere of Batman v Superman: Dawn of Justice in a high-low floral Giambattista Valli gown that put her stunning legs on display.

Getty Images
Looking simple yet elegant, Gadot opted for a black pantsuit at the UK premiere of Criminal. she topped of her polished look with a pair of black pumps and a gray box clutch.

Getty Images
Gal Gadot in Dolce & Gabbana at a taping for Jimmy Kimmel Live, March 2016.

Getty Images
Gadot looked glamorous in a floral sequin Dolce & Gabbana pencil dress while attending the unveiling of Tiffany & Co.'s renovated Beverly Hills store.

Getty Images
The actress looked stunning at the premiere of Keeping Up with the Joneses, wearing a Dolce & Gabbana strapless dress rendered in gold and silver sequins.

Getty Images
Going with a sultry look while attending a screening for Keeping Up With The Joneses, Gadot opted for a fitted David Koma color-blocked halter and ruffle-hem dress.

Getty Images
The mommy to be dressed up her baby bump in a Mugler slip dress with a sequined bodice and a high front slit for the Golden Globes. She completed her look with black Stuart Weitzman sandals.

Getty Images
The actress attended the 2017 MTV Movie and TV Awards in a fringed blazer dress by Cinq A Sept and Tiffany & Co jewelry.

Getty
Gadot attends a press conference for Wonder Woman in China wearing a cobalt blue gown with slicked back hair.

Getty
For the world premiere of Wonder Woman, Gadot looked the superhero part in a red sequined Givenchy gown.

Getty
At the film's Mexico City premiere, Gadot embraced her dark side in a draped black gown with a dark lip.

Getty