Wonder Woman Director Patty Jenkins Says "We're Working On" a Sequel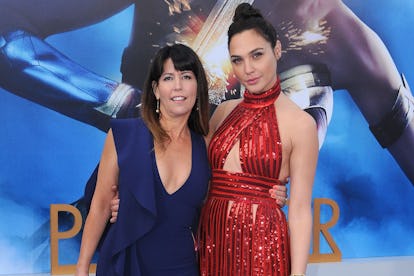 Barry King/Getty Images
Wonder Woman fans need not worry, Patty Jenkins is just as committed to directing a sequel as they are about demanding one.
While chatting with Conan O'Brien on Thursday about her hands-on directing style, Jenkins revealed that if she has anything to say about it, a follow-up to the record-smashing superhero film will happen sooner rather than later.
"We're working on it," she said, when O'Brien asked if she'll be directing a sequel. "I hope to, I love it, I love the world, and we all are really excited about it."
Last weekend, Wonder Woman set a new box office record for the opening weekend of a female-directed film, raking in more than $100 million in the United States and about $122.5 million worldwide. It also received rave reviews from critics and is "certified fresh" with 92 percent positive ratings on Rotten Tomatoes. On Thursday, Twitter announced that Wonder Woman is the most-tweeted-about film of 2017, surpassing previous titleholders La La Land and Beauty and the Beast—so it seems like a no-brainer to green-light at least one follow-up, right?
Jenkins previously spoke with Entertainment Weekly about her ideas for a sequel. "The story will take place in the U.S., which I think is right," she said. "She's Wonder Woman. She's got to come to America. It's time." Jenkins also explained to EW that she originally didn't want to be tied to a franchise deal, but changed her mind during production. "I'm not a big obligation person when it comes to art. You want to do a movie like this because you believe in it," she said. "Then I had this revelation in the middle of the night: This is your dream cast, you've created a character that you love, and you can say anything you want in the world right now."
Jenkins added, "I realized that Wonder Woman 2 is its own great movie…It's a beautiful story to tell, an important time to tell it, and with people that I love."
Related: Wonder Woman's 9 Most Surprising Feminist Moments
"Wonder Woman" Star Gal Gadot Was a Very Reluctant Pageant Queen: