Meet Abby Quinn, Landline's Scene-Stealing Newcomer On the Rise
The 21-year-old actress on her chemistry with costar Jenny Slate, and the most cathartic scene in her new film Landline.
---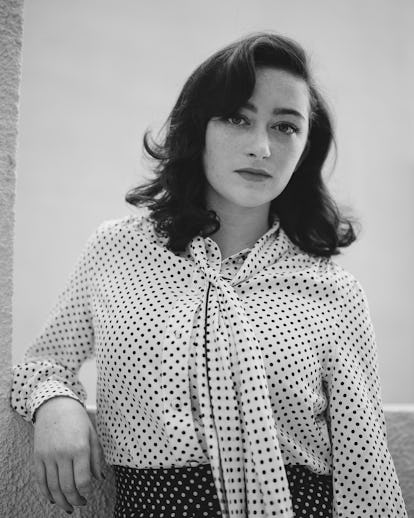 Photo by David Cortes for W Magazine.
The first thing actress Abby Quinn did when she received the script for Landline last April was make a playlist.
The film, directed by Obvious Child's Gillian Robespierre, co-stars 21-year-old Quinn as Ali, a student at New York's prestigious Dalton School, and Jenny Slate as her older sister Dana, a graphic designer at an advertising firm. Though their relationship is fraught, they bond over the revelation that their father, played by John Turturro, might be embroiled in an affair, and their shared romantic tribulations like Ali's first brushes with a new boyfriend and Dana's own infidelity.
Landline begins in 1995, and it's infused with nostalgic musical references: In one scene, the sisters start a spontaneous dance party to PJ Harvey's "Down by the Water"; in another, Slate dances alone in the world music section of the now-defunct cult record store Other Music. Quinn, who was born in 1996, collected all the musical references throughout the script, including the Pixies, Elliott Smith and his early-'90s band Heatmiser, Fugazi, Velvet Underground, Tricky, and Flaming Lips, dropped them in a playlist entitled "Ali"—the name of her character—and started listening.
Even six weeks after her audition, when Quinn hadn't yet heard back and assumed she never would, she continued listening to the "Ali" playlist, giving herself a crash course in music she described as "harder" than her usual tastes. (She has an affinity for folk-leaning artists like the Tallest Man on Earth, Ariel Pink's Haunted Graffiti, and country classics like Johnny Cash and June Carter, inherited from her father.) Now, a year later, the playlist remains on Quinn's Spotify; she pulled it up on her phone to read out track names as we spoke. Music offered an entryway for Quinn to empathize with her character; while walking to her audition, she listened to Fugazi's "I'm So Tired," which she said "perfectly encapsulated" Ali's perspective. "She's really alone and she doesn't have strong relationships with her family," Quinn said. "It completely sets the mood."
While music has a special role in Landline, Quinn frequently turns to it to help her get into other characters, she said, and she still harbors ambitions of making music of her own. (In one scene, Ali plays a short song Quinn and Robespierre wrote on the spot.) She grew up in Michigan, the third of four children, but when she was young, she spent time on a ranch just outside Telluride, Colorado, with her father, where she first became acquainted with Carter and Cash and Willie Nelson.
"The first songs I sang and the first songs I heard were all these western country songs," she recalled. They remain linked in her memory with "riding and fishing and driving around in an old, beat-up Jeep," she explained. "I feel like a lot of who I am is based on my experiences in Telluride."
Quinn's parents split when she was in the fourth grade, and her own experience with their divorce brought her closer to her character. Ali is, in many ways, the volatile heart of the film, raging at her parents, but she is also its resident soothsayer, offering pearls of wisdom her family is often quick to attribute to Oprah Winfrey. She's brash and outspoken in conflict—much unlike Quinn herself, who tends to be less forthcoming. "It felt like it was going to be really liberating to just be this person for six weeks in the environment of divorce and family dysfunction, but actually saying exactly how I feel and not caring how people are going to respond," she said.
During one take, originally scripted as another wry verbal spar between Ali and her father as Ali attempts to call her boyfriend, Turturro kept running the scene over and over without cutting; he and Quinn grew increasingly heated, the cameras still rolling, until, in an unscripted moment, Turturro finally ripped the landline phone (for which the film is named) out of the wall and stormed out of the room. In the narrative of the film, Ali and her father just had a fight. In the narrative off screen, this newcomer just held her own opposite John Turturro.
But for all the family tension on screen, there was also a sense of camaraderie on set. Slate acted the elder sister to Quinn off the set just as much as (and perhaps even more than) on it, talking Quinn through her first sex scene, her first scenes involving drug use, and her first Sundance Film Festival, where Landline premiered (and was subsequently scooped up by Amazon Studios). The film premieres wide Friday, and Quinn is already looking ahead—not to her upcoming Jodie Foster-directed episode of Black Mirror, but to another, not-yet-specified project.
"I can't say it, but it's big," she said. "It's really big."
Johnny Flynn's first kiss was the girl who became his wife: