We Found the Real Life Dr. Yee From HBO's "The Night Of"
Fu Zhang, MD, performs miracles with baggies of herbs and acupuncture treatments.
---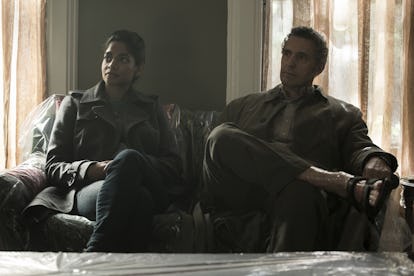 Craig Blankenhorn/HBO
"Cash only."
This is usually not what you want to hear when you're visiting a doctor, but with Fu Zhang, MD, it's standard procedure. Like the lawyer Jack Stone, who is played by John Turturro in HBO's critically acclaimed miniseries "The Night Of" (the finale airs Sunday), patients who seek Dr. Zhang's treatment are often willing to do anything in the hopes of a miracle cure.
On the show, Stone has crippling eczema — his feet have deteriorated to the point that he doesn't bother with shoes anymore, preferring sandals even in cold weather — and after trying and failing with prescription drugs, steroids, creams, and even a UV lamp, he turns to a fictional "Dr. Yee" in Queens, New York for some Eastern medicine. Yee hands Stone a Ziplock bag filled with grayish-brown herbs that look like his cat's ashes and instructs him to drink up.
"Does it taste okay?" Stone asks. Yee shakes his head. "No." "Do you take credit cards?" "No."
Stone then returns home and forces himself to swallow the herbal concoction. And just like that, after a few days he's finally cured. Stone returns to his eczema support group sporting close-toed shoes and drops Yee's name, calling him a "miracle worker."
"He's Anne Sullivan!" says Stone, jokingly referencing Hellen Keller's aide. "$300 and he throws in aphrodisiacs."
Dr. Yee might not exist in real life, but we have the very real Dr. Zhang, who is not only based downtown nearby Manhattan's court offices at 373 Broadway, but also charges a mere $35 for his herbal prescriptions.
Dr. Zhang has been offering so-called "miracle cures" to New Yorkers for the past 25 years, allegedly ameliorating ailments such as gastritis, infertility, bronchitis, exhaustion, menopause, migraines, cold-flu, back pain, allergies, and PMS with his herbs and acupuncture treatments. New York's beauty editors and Yelp reviewers all agree: Zhang's got the goods.
I visited Dr. Zhang's office during walk-in hours this past Friday, and it was just like a scene out of "The Night Of." There's no way one would find one's way to this place other than through word-of-mouth — Dr. Zhang's name is written in Sharpie on a gray door in a nondescript office building. Inside were boxes of Ziplock bags piled to the ceiling, and a copy of Popular Science.
Dr. Zhang, who has white hair and wore socks underneath his orthopedic sandals, gave me a friendly nod, but didn't say much else. His assistant handed me a blank piece of looseleaf paper and told me to write down my information. She then asked me in a serene half-whisper about my symptoms; I told her that I had just gotten a bad cold and was also looking for something to treat my eczema. She took notes in Chinese and declared my eczema too mild to merit treatment, offering her own treatment: Try "relaxation."
As for my cold, she prescribed a peppery-cinnamon herbal tea concoction that was the same color as Stone's. "Just add some honey and sugar," she said with a smile. So, I left with my plastic baggie and a lot of questions.
It hasn't been long enough for me to say definitively whether or not Dr. Zhang is a miracle worker, although I will say his herbal tea doesn't taste as bad as it looks. The jury is also still out on whether or not Stone's eczema will have any bearing on "The Night Of" plot whatsoever, or if it's just an over-glorified character tic. Either way, hopefully by Sunday, we'll all feel a little better.
Watch W's most popular videos here: