These Are the 11 Best Women Fronted TV Shows of 2017
Women have been behind some of the most comical, touching, and timely series of the year.
---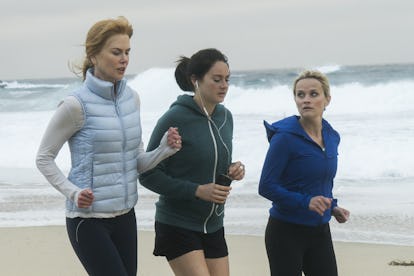 HBO
2017 was a banner year for women who make television. Whether writing, directing, or starring in (or, in the case of many, doing all of the above) their shows, women have been behind some of the most comical, touching, and timely series of the year. Some names are new, while others are seasoned TV veterans, but in celebrating the women who make television, it becomes clear that it is such a privilege to be able to witness the artistry and talent creating these moving stories. These are our picks for the 11 best female fronted television shows of 2017.
Better Things
Pamela Adlon's second season as Sam Fox, the former child star turned voice actor raising three daughters on her own, is undoubtedly one of this year's most heart-wrenching and hilarious representations of parenthood, childhood, and growing up.
Big Little Lies
HBO's star-studded adaptation of Big Little Lies provided one of the most cathartic season finales of the year, as the mothers of Monterey worked through spousal abuse and sexual assault. Also, it was good enough for Andrea Arnold to sign on to direct every single episode of the series' highly-anticipated upcoming second season.
Chewing Gum
Michaela Coel's wacky, colorful, and raucous romp about a black working-class Londoner on a quest to lose her virginity is a fever dream of a story. Coel stars as the show's main character, Tracey Gordon, but she also created the series and wrote every single episode of one of the most hilarious shows on TV. The show has yet to be picked up again, but Coel has teased that she might soon get back on the bandwagon in the future for a third season.
Insecure
Issa Rae, Yvonne Orji, Amanda Seales, and Natasha Rothwell bring the laughs in season two of Rae's phenomenal series about young black women learning to live, work, and date in Los Angeles.
The Marvelous Mrs. Maisel
Rachel Brosnahan is radiant as Miriam "Midge" Maisel in Amy Sherman-Palladino's forceful return to television, about a Jewish housewife whose husband leaves her for his secretary, and inevitably makes space for her burgeoning career as a standup comic in 1958 New York City.
SMILF
SMILF is Frankie Shaw's semi-autobiographical take on single motherhood. She plays Bridgette, an aspiring Boston-based actress who tutors the high school-aged kids of a wealthy family to make ends meet, while raising her young son, Larry, and patching up her relationship with her mother Tutu (played by Rosie O'Donnell). Don't let the title SMILF fool you—Shaw's show takes a hard feminist stance on its portrayal of women and mothers, without forsaking the laughs.
Alias Grace
Sarah Gadon stands out as Grace Marks in this Netflix adaptation of Margaret Atwood's novel about an Irish house maid accused of murder in 1843, helmed by Mary Harron. If you're keeping count, that's three Canadian women fronting this show.
The Bold Type
The young women of The Bold Type—a fashion assistant played by Meghann Fahy, a social media director played by Aisha Dee, and a budding journalist portrayed by Katie Stevens—lead the tale of an editorial team behind a fictional women's magazine. Teens and adults alike will both gravitate towards The Bold Type. It's not a typical workplace drama, but it's also not as much The Devil Wears Prada as you might think—its millennial characters support each other through difficult situations, from asking for a raise to reporting on sexual assault.
Younger
With spot-on parodies of New York City media figures and a plethora of literary and publishing references, Younger's tale of a 40-year-old editorial assistant—played by Sutton Foster—who pretends to be in her 20s is so delightfully charming, and features strong performances from Hilary Duff, Debi Mazar, and Miriam Shor.
Lady Dynamite
Maria Bamford is back in her semi-autobiographical series about returning to her comedy career after a breakdown and hospitalization, and the second season was more poignant than ever.
Crazy Ex-Girlfriend
Season three of Crazy Ex-Girlfriend is Rachel Bloom's sharp song-and-dance about the pitfalls of mental illness and the stigmas women face on a daily basis. Bloom's brilliance is on full display this season as Rebecca Bunch (played by Bloom) deals with a new diagnosis and learning to let go of her past obsessions. Plus, the songs are just so catchy it's impossible not to love.
Related: Connie Britton, Rosie O'Donnell, and Frankie Shaw on SMILF, Their Stealthily Subversive New TV Comedy About Single Moms