Amy Sherman-Palladino, Mastermind Behind Gilmore Girls and The Marvelous Mrs. Maisel, Watches TV While She Writes
The Gilmore Girls creator is back with The Marvelous Mrs. Maisel, a 1950s period comedy about a housewife turned comedian.
---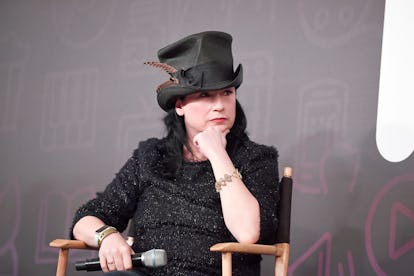 Emma McIntyre/Getty Images
Amy Sherman-Palladino, the eccentric mind behind the fast-talking, pop culture referencing mother-daughter duo of Gilmore Girls, and the brilliant ballerinas on the short-lived Bunheads is back with a new TV show: The Marvelous Mrs. Maisel, a delightfully feminist tale of a Jewish housewife who accidentally becomes a comedian in 1950s New York City.
The series, which Sherman-Palladino created with her husband Dan Palladino, follows Midge Maisel, the titular character, as she ends her marriage with her husband, and accidentally (and somewhat drunkenly) enters the Greenwich Village comedy scene in 1958. Midge is a perfect housewife with two children, a seemingly doting husband (played by Michael Zegen) and a lavish apartment on the Upper West Side, and in the show's opening scene it is clear that Midge possesses all the skills of a powerful orator.
All of this falls apart when Midge discovers her husband—who aspires to be a comedian himself—has been cheating on her with his secretary. As she rides all the way down to the Village to speak with the manager at the comedy club where her husband usually performs, Midge hops on stage herself. As a pretty Uptown lady with a surprisingly filthy mouth, her impromptu standup routine shocks the crowd—as well as the police officers who invade the club—and grabs the attention of Susie (played by MadTV's Alex Borstein), the manager of the club who guides Midge through the underground scene. Her parents—played by Tony Shalhoub and Marin Hinkle—don't approve of her new calling, but Midge eventually loosens up onstage to find her footing and learns that her voice, and her truth, deserve to be heard.
The TV show appeared as a pilot on Amazon earlier this year, and was picked up for a second season ahead of its November 29 series premiere. Here, Sherman Palladino allowed W to pick her brain to find out what it takes to be the mastermind behind some of television's most iconoclastic, witty female characters.
How did you decide that The Marvelous Mrs. Maisel would be your next big thing?
I don't know that I decided. My dad was a standup comic, so I was raised around comics and stories of Greenwich Village comedy clubs and basket-houses, and the Catskills and Vegas. I knew I wanted to do another really strong female piece. I knew I wanted to do a period piece because I can't write Snapchat anymore. I just can't do it. I'm done with cell phones and texting and I don't care, because I'm not on social media so writing about it makes my head hurt because I'm not on it. I met with the Amazon guys and I said, "What about doing a show about a 1950s housewife who becomes a stand up comic in the Greenwich Village basket house scene?" It was a pivotal time in comedy because comedy was starting to change from "take my wife, please" to Lenny Bruce, stream of consciousness, political humor, a little bit more truth telling, which is what I wanted Midge to do. It felt like by plopping her right there, you had the beauty of the cars and the clothes and the coiffed, perfect housewife, and yet downtown there was this movement and this energy of pushing into the future. I thought that would be a perfect place to kind of dump a girl.
Your show is about a comedian, and in the last month so many female comedians and other entertainment figures have spoken out about sexual assault and shared their #MeToo stories on social media. When writing Maisel did you think about the implications of being a female comedian in such an unkind world, especially in the 1950s?
It's rough. Standup comedy is a rough world for women and always has been. The world is a rough world for women! It's interesting to me how much a lot of what Midge will go through is actually still relevant today. It's so awful, every single day it gets worse and worse. [The Marvelous Mrs. Maisel] was not developed in this time, I wrote this before we did Gilmore Girls. It's just a relevant struggle as a woman in society and especially in comedy. [Midge is] someone who's very naive about comedy and the whole show is from her point of view. As she goes into comedy, she's going to learn what the rules were that she never knew about. She didn't know that a woman wasn't supposed to look pretty and get on stage and say certain things. She never knew that people didn't consider women funny. There's an unshakeable confidence about Midge that sort of pushes through no matter what, and I think that's going to surface even better now that the world has truly become a death spiral hellhole.
How do you get your news?
I read the newspaper. I read The New York Times because I like holding things in my hands. I read The New York Post because when someone falls off a scaffolding, they'll have an arrow saying "Here's the head." That's The Post, you gotta love it for that. My husband reads The Journal; we're paper people.
The biopic about The Washington Post with Tom Hanks and Meryl Streep is coming out soon, are you excited for that one?
That was shooting at Steiner [Studios] when we were shooting! You always know when Spielberg is shooting on your lot because suddenly all the parking spaces are taken. They're just coned off and nobody is parking there, but you're like, oh Spielberg is here! If it's a Spielberg movie there are no parking spaces.
What's the last movie you saw in theaters?
We try to see everything, we go to a lot of movies. We saw Thor: Ragnarok, Lady Bird and Three Billboards. My favorite movie that I've seen recently, and the movie that I'm completely, totally, utterly obsessed with is The Florida Project. That movie, to me, is the best example of taking circumstances that are grim as shit, but it's the pure elation of childhood. Everything is an adventure. That energy! After I saw it and texted my agent and said, "I'm retiring," because I don't know what to do after that.
What's the last thing you googled?
Every five seconds if there's a reference in a book or to put a name with a face. A lot of our googles are, "Did they say twat in 1958?" when writing a script because you write things and you're like, did they say that? We had a whole "twat" conversation. We had a researcher research it and they did say twat. Just for the record, they said "twat" in 1958!
What's the last concert you went to?
It has been a while, but the last concert I went to was a Genesis cover band. We see a Genesis cover band in Tarrytown. It's a great theater.
Have you had any songs on repeat in your head lately?
I've gotten re-obsessed with the Ragtime soundtrack over the last week and I'm not sure why. I've been looking for new songs for the second season and I had "The Night that Goldman Spoke at Union Square" going through my head.
Do you have any good books on your bedside table?
I just finished the Ferrante books, which I am so tragically obsessed with. I had an emotional depression as I was ending the last book. I was saying to Dan [Palladino], I'll never read again because I'll never be this emotionally involved with a book again. Right now I'm reading the Jean Stein oral biography, West of Eden about the Hollywood families. I highly recommend it because it is crazy!
What's the last piece of art you bought?
I bought two paintings at the Paris flea market. I don't know if they're by anyone notable! I brought them home and they fell out of their frames so I need to have them re-framed, but I enjoy them.
What TV shows have you been watching?
We really love Narcos. It's a really good show. We love Catastrophe, it's a very good one for us. We're big on John Oliver and Sam Bee, because you have to, they're the best. Obviously everyone in the world has to watch Stranger Things or you get excommunicated from the human race. That's the rule! We tried to get through [Ken Burns'] The Vietnam War and it's so confusing. The war is so confusing, I think the documentary is so amazing. The war is so f–king confusing that we bailed for a while and need to restart from the beginning.
What's the last thing you do before you go to bed?
We're unfortunately TV watchers at night. I cannot fall asleep without the TV on. I also can't write without the TV on! Different kinds of TV. My husband will fall asleep, but he puts earplugs in so he'll just conk out. It's either NY1, which I find oddly comforting at all times–although they're changing it so much that I just don't know how I feel about the new format at all! Ruining things I love!–or I'll find some dumb movie. I like noise. I don't like quiet, quiet is very lonely and sad to me.
What do you watch when you're writing?
Depends on the script! I went through a Buffy the Vampire Slayer phase, seasons one through four. Five and six do nothing for me, writing wise. I mean, I watched them all obviously. Then I went through a Sopranos phase. I went through a NYPD Blue phase for a really long time. I know, very odd. Occasionally, it'll be a movie. If Bull Durham is on, I will absolutely watch Bull Durham. Or Working Girl, or My Cousin Vinny. Those are big ones and they tend to be on a lot. Oh, The Birdcage! That's very big. I actually have that on DVR so I can put it on whenever because Mike Nichols had some great shots in that one.
The Marvelous Mrs. Maisel premieres November 29 on Amazon Prime.
Related: Lord of the Rings, the TV Show, Is Just the Beginning of Amazon Studios' New Makeover
Milo Ventimiglia Confirms That Gilmore Girls' Jess Had "Good Hair" and "Dope Jackets"