Lord of the Rings, the TV Show, Is Just the Beginning of Amazon Studios' New Makeover
The streaming giant plans to introduce five new programs, in addition to a multiple season deal to adapt Lord of the Rings for television.
---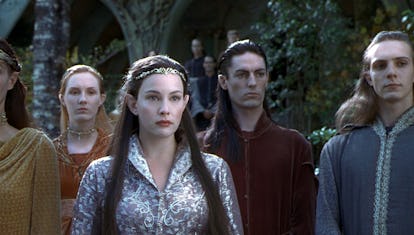 New Line Cinema
While Amazon Studios makes a couple major cuts in content its streaming platform, five new projects are in the works at the studio, and they all reflect what Variety reports is part of Amazon's goal to cast a wider net and produce content that has more "global appeal." Amazon Studios has announced that they will not move forward with another season of Z: The Beginning of Everything, the Zelda Fitzgerald period drama starring Christina Ricci, and will likely cut even more programming in the coming months, but the streaming giant has greenlit five new projects in addition to a new Lord of the Rings series.
A Wong Kar-wai period piece called Tong Wars, about the history of Chinese immigration, a Fred Armisen and Maya Rudolph comedy, a comic book series from Seth Rogen, and two unnamed comedy pilots make up the slate of upcoming programming at Amazon Studios. In addition to Matthew Weiner's new anthology series, The Romanoffs, about alleged descendants of the Romanov Dynasty, The Marvelous Mrs. Maisel from Gilmore Girls' Amy Sherman-Palladino, and a new Tom Clancy adaptation from John Krasinski, the platform also plans to move forward with a Robert De Niro and Julianne Moore led crime drama and the Lord of the Rings television series, according to Variety. In partnership with J.R.R. Tolkien's Estate and Trust, HarperCollins and New Line Cinema, Amazon plans to keep the LOTR series around for multiple seasons, tackling new storylines and potentially spinning off the literary adaptation into yet another series on top of the original one proposed.
A fantasy literary series with a cult following being spun into a multi-season television series with potential spinoffs—where have we heard that one before? Roy Price, former Amazon Studios president, responded earlier to claims that Amazon was just looking for its own version of Game of Thrones by telling Variety, "Everybody wants a big hit." Now, after Price has stepped down amidst sexual harassment claims, Sharon Tal Yguado, formerly at Fox International Channels, will take the development reigns.
Amazon's success with Transparent, Fleabag and Catastrophe is of a lower key; these shows occupy a strange space between tragedy and comedy, and Amazon Studios is aiming to overhaul its approach by creating big ticket, high-end dramas that cost a lot of money to produce, like Lord of the Rings or The Romanoffs. With Sharon Tal Yguado in control, the streaming giant is also looking to develop more sci-fi and fantasy series. Everyone wants that sweet Game of Thrones money, and as more prestige streaming platforms emerge, only time will tell if Lord of the Rings will make that possible for Amazon.
Related: Report: Big Little Lies Didn't Wind Up on Amazon Because Exec Wanted More Nudity
See W's most popular videos: