Grey Gardens Prequel That Summer Trailer: Andy Warhol, Truman Capote, and Bianca and Mick Jagger in Their Prime
It also offers glimpses of Bianca and Mick Jagger and Truman Capote blissfully in their prime.
---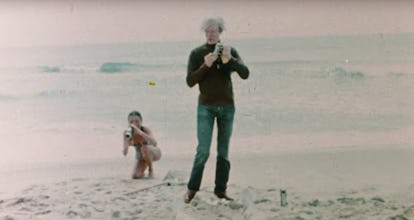 Even 43 years after its release, Grey Gardens is still as talked about as ever. The mansion belonging to Edith Bouvier Beale and Edith Ewing Bouvier Beale, aka "Big" and "Little" Edie—the aunt and first cousin of Jacqueline Kennedy—made headlines last year when it sold for $15.5 million. Now, it's doing so once again thanks to a new documentary, That Summer.
The footage, of course, isn't new. In fact, it was shot before Albert and David Maysle's 1975 documentary when the directors were just a couple of crew members working on a project for Jackie O's sister Lee Radziwill. Radziwill had brought together the film crew, with the photographer Peter Beard as the director, to capture her experience helping her aunt and cousin get their house up to code in 1972 (with financial assistance from Jackie O's husband Aristotle Onassis, per The Hollywood Reporter) to prevent them from being evicted. However, once she reviewed the film and realized the focus had turned to "Big" and "Little," Radziwell shut down production. Four reels of film were "lost" from that point until now, when Swedish filmmaker Göran Hugo Olsson, best known for 2011's The Black Power Mixtape 1967–1975, decided to resurrect it as That Summer.
That Summer also features footage captured by Jonas Mekas, Vincent Fremont, and, most notably, Andy Warhol, who appears in the film's first trailer. The clip is peak 1972, with Warhol's cameo alongside those of contemporaries Truman Capote, Bianca and Mick Jagger, and Paul Morrissey.
"Everything was perfect in those days," Beard says, referring to the summer of 1972 in Montauk, New York. "Andy [Warhol] used to come, Biana [Jagger], Mick [Jagger] came and stayed there…. It was always amazing. They were in a dreamworld."
Radziwill, who has talked before about how she got the Beales to open up their home for the cameras, also makes an appearance in the documentary. "The original idea for the film was about my return to East Hampton after 30 years and to have my aunt Edith narrate my nostalgia and hers," Radziwill told Sofia Coppola in 2013, as Vogue notes. "Peter (Beard) said, we'll get the Maysles, because they have 16mm cameras, and the Beales won't be frightened of that, and the Maysles will be charmed by them. And the Beales were terribly attracted by the Maysles, because they adored having their picture taken and they adored screaming at one another constantly, and they said, 'Listen, we don't want this to be Edie narrating for you, for your nostalgia; we can really make something extraordinary from this.' It took me weeks of drives from Montauk to East Hampton to get them to open the door and talk."
That Summer is due out May 18.