A Socialite Just Sold the Storied Grey Gardens Estate for a Discount: $15.5 Million
The former home of Jackie Kennedy's reclusive aunt and cousin is once again getting a restoration.
---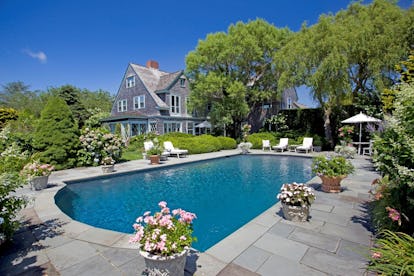 Courtesy of the Corcoran Group
Normally when a house is on sale, it means its price is nowhere near the neighborhood of that of the most expensive house in the world. But Grey Gardens, the estate in the East Hamptons renowned for once belonging to Jackie Kennedy's aunt Edith Bouvier Beale and cousin Edith Beale—aka Big Edie and Little Edie—isn't exactly your ordinary home: Its storied lifespan has been the subject of a 1975 cult documentary, a 2009 HBO movie with Drew Barrymore and Jessica Lange, and a Broadway musical.
What's more, the estate has recently found even more fame of its own: In the '70s, the estate passed into the hands of Sally Quinn, the journalist and noted D.C. socialite, and her late husband Ben Bradlee, the former executive editor of the Washington Post, the latter of which is now being portrayed by Tom Hanks in the highly anticipated Steven Spielberg movie The Post. The couple paid just $220,000 for the estate at the time, but now, a few years after Bradlee's death, Quinn decided to put the estate back on the market in March for nearly 20 times the original price (not counting inflation): a bit under $20 million.
Evidently, even estate-hunters considered that price to be a bit much. Over the course of the year, it was lowered by $2 million—and finally got lowered by several more millions, as the house just sold for $15.5 million to an unnamed couple who, as WWD reports, adore the property and plan on restoring it.
"This is a bittersweet moment for me, but I feel grateful that the new owners will cherish the house as much as Ben, Quinn and I did, and that their time there will be as magical as ours was," said Quinn, who recently had an estate sale including some relics belonging to the Beales that she had found in the attic.
The new owners will also be following in the footsteps of Kennedy and Lee Radziwill, too: The sisters also helped out in restoring the then derelict home and advocating for its preservation in 1972, when the reclusive Edies were facing eviction, and the house was about to be razed for not meeting local standards. Presumably, though, Quinn will have made sure they won't have to deal with hurdles like restoring running water and getting rid of some of its other former inhabitants: cats, raccoons, and fleas.
Jackie Kennedy Through the Years: A Look Back at the Original White House Style Icon
A smiling Jacqueline Bouvier arrives at St. Mary's Church in Newport, R.I., on the arm of her stepfather, Hugh D. Auchincloss, for her wedding, 1953. Photo courtesy of Getty Images.

Getty Images
Jackie Kennedy on a visit to India in 1962. Her signature pearls and gloves accessorize an apricot dress with bow accent. Photo courtesy of Getty Images.

Getty Images
Jackie looks windswept on a December afternoon in 1969 in a casual black turtleneck. Photo courtesy of Getty Images.

Getty Images
Jackie Onassis pictured receiving a gift from Prince Sihanouk of Cambodia and his wife during a trip to Cambodia in 1967. She dons a teal one-shoulder dress with decorative trim. Photo courtesy of Getty Images.

Getty Images
Jackie Kennedy on a trip to Canada in 1961. The First Lady matches an iconic pillbox hat to her red wool suit. Photo courtesy of Getty Images.

Getty Images
Jackie Onassis attends the Metropolitan Opera at Lincoln Center in 1967 wearing a white 3/4 sleeve gown cinched at the waist by a chunky belt with stone inlays. Photo courtesy of Getty Images.

Getty Images
Jacqueline Kennedy Onassis in a formal pants suit on East 75th Street, New York, 1960. Photo courtesy of Getty Images.

Getty Images
Jackie Onassis on the way to the Metropolitan Opera House House Royal Ballet in 1974. Her printed maxi dress exudes 70's glamour. Photo courtesy of Getty Images.

Getty Images
President and Mrs. Kennedy in West Palm Beach, Florida, 1961. Photo courtesy of Getty Images.

Getty Images
Ms. Onassis arriving at La Cote Basque in 1970. In a stunning red moment, Jackie looks playful in a beautiful ruffled dress that's belted at the waist. Photo courtesy of Getty Images.

Getty Images
Jacqueline Kennedy wearing a checked blue and white high cloche with a matching blue ribbon around the crown as she arrives with the President to greet the Pakastan President, Ayub Khan, Andrews Air Force Base, Maryland, July 11, 1961. Photo courtesy of Getty Images.

Getty Images
First Lady Jacqueline Kennedy walks a pace behind her husband in a monochromatic white outfit, a look that quickly became synonymous with Mrs. Kennedy during her Camelot days in 1962. Photo courtesy of Getty Images.

Getty Images
Jackie Kennedy exits a plane at Laguardia Airport Field in a knee-length leopard coat in 1962. Photo courtesy of Getty Images.

Getty Images
Jackie is pictured wearing her riding outfit at the 17th Annual Horse Show in 1970. Photo courtesy of Getty Images.

Getty Images
Jackie Onassis is photographed in 1970 at The Alvin Theater in New York wearing a black and white cocktail dress belted at the waist with geometric inserts. Photo courtesy of Getty Images.

Getty Images
Jackie is photographed at Heathrow Airport sporting a casual printed blouse and iconic oversized glasses in 1976. Photo courtesy of Getty Images.

Getty Images
Jackie Onassis pictured wearing a green cocktail dress to a dinner at La Cote Basque Restaurant in 1974. Photo courtesy of Getty Images.

Getty Images
Jackie wears a vibrant yellow gown to the Metropolitan Opera House in 1973. Photo courtesy of Getty Images.

Getty Images
Jackie wears a navy suit with a red bowtie while out with her children in 1971. Photo courtesy of Getty Images.

Getty Images
Jackie looks effortless exiting the cinema in a simple khaki skirt and tucked blouse during the summer of 1981. Photo courtesy of Getty Images.

Getty Images
First Lady Jackie Kennedy attends the unveiling ceremonies at the National Gallery of Art in a strapless lavender evening gown and satin elbow length gloves in January of 1963. Photo courtesy of Getty Images.

Getty Images
Jacqueline Kennedy Onassis wears a ballgown with a long sleeved sequin top to a gala at the New York Public Library in November of 1986. Photo courtesy of Getty Images.

Getty Images
Before she was a Kennedy, she was Jacqueline Bouvier. Here, the future Mrs. Kennedy is pictured in a floppy hat and shorts on holiday at the Kennedy compound in 1953. Photo courtesy of Getty Images.

Getty Images
In 1989, Jackie Onassis is sighted wearing a yellow sequin skirt paired with a crisp white blazer and pearls in New York. Photo courtesy of Getty Images.

Getty Images
Jackie Onassis attends her daughter Caroline's wedding wearing a long sleeved mint colored cocktail dress and gloves in 1986. Photo courtesy of Getty Images.

Getty Images
Related: The Mystery of Who Owns the World's Most Expensive House Has Finally Been Solved
See a Formerly Vacant Upper East Side Apartment Get An Artsy Overhaul: