The Mystery of Who Owns the World's Most Expensive House Has Finally Been Solved
The Saudi Crown Prince Mohammed bin Salman is also the reported buyer behind the $450 million Salvator Mundi.
---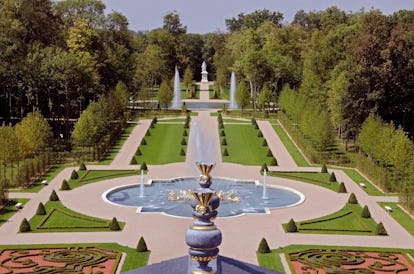 Patrice Diaz
The month before her wedding to Kanye West in Florence in May of 2014, Kim Kardashian headed to the north of France, not far from Versailles, to visit the Chateau Louis XIV—a potential wedding venue with moats, an underground nightclub, a ballroom, a labyrinth, an underwater room with glass walls, and a movie theater that the couple eventually passed on in favor of a 16th-century fortress for their nuptials. The Chateau is, after all, a bit deceptive when it comes to its history: despite its thorough resemblance to a 17th-century estate, the original property was in fact bulldozed in 2009 and recreated by 2011, making it modern-day enough that its air conditioning and many fountains can be controlled by an iPhone.
All that might not have been quaint enough for Kim and Kanye, but it was definitely just fine for the mysterious person who bought the chateau for $300 million in 2015—thereby giving it the title of the world's most expensive house—who until now has remained a mystery. This weekend, however, the New York Times reported that the buyer was in fact Crown Prince Mohammed bin Salman, the heir to the Saudi throne who's been behind a recent major crackdown on corruption and embezzlement amounting to billions in Saudia Arabia that has so far detained at least 200 people.
The purchase is even more incongruous for someone preaching thriftiness given that Crown Prince Mohammed himself has been criticized for his spending habits, reportedly forking over $450 million for Leonardo da Vinci's Salvator Mundi—thereby giving it the title of the world's most expensive painting—as well as making impulse purchases like a yacht complete with two swimming pools that cost him half a billion dollars. He definitely has a better view of the water when he's safely on land in France, though, as Kardashian evidenced when she made her visit.
Then again, Crown Prince Mohammed, who's only 32 years old, is simply keeping with tradition amongst much of the Saudi royalty: He's the favored son of King Salman, who's lately put a team to work at building him a massive vacation compound on the coast of Morocco.
And while Salvator Mundi has now been officially acquired by the United Arab Emirates to exhibit in the new Louvre Abu Dhabi, Crown Prince Mohammed has unfortunately been keeping that roomy chateau all to himself—to the complaints of at least one local that the Times spoke to, who lamented that she could no longer use its 57 acres to forage mushrooms, and no doubt the sturgeon and koi fish stuck swimming up and down the chateau's walls who've no doubt been a bit lonely lately. Luckily enough for outsiders, though, you can take a virtual tour of the home here.
Related: Jay Gatsby's Fantasy Mansion Hits the Market for $250 Million, Becoming Most Expensive House in the Country
Jasmine Tookes Tries On the $3-Million Victoria's Secret Fantasy Bra: