All the Most Vicious, Questioning Takedowns of Leonardo da Vinci's $450-Million Painting Salvator Mundi
"This Jesus, far from saving the world, might struggle to save himself a seat on a crosstown bus."
---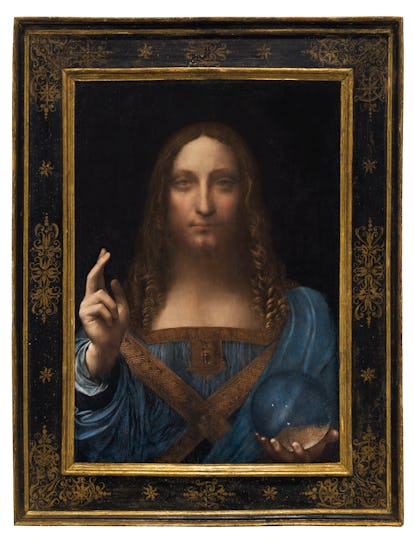 Courtesy of Christie's
Salvator Mundi, which was reportedly Leonardo da Vinci's last painting in private hands, and is now the most expensive work of art ever sold, has been shrouded in mystery practically since it was first created around 1500. Since then, it's fallen into the possession of everyone from King Charles I to a Russian fertilizer salesman with connections to Donald Trump, gone missing for 150 years, been sold by Sotheby's for a mere £45 less than 100 years ago, and most recently landed at the center of a marketing campaign like that of summer blockbuster movie by Christie's, which kicked off with invitations to an "unveiling" of a work that the auction house refused to identify beforehand.
The portrait of Jesus, aka the "Savior of the World," was a bit slow to gain attention at first, but it wasn't long before Patti Smith, Jennifer Lopez, and Alex Rodriguez dropped by to take a look. Leonardo DiCaprio also stopped by to pay homage to his namesake—whom he'll play in an upcoming biopic. The moment was captured in a promotional video released by Christie's, whose executives have touted the painting as "the discovery of a new planet."
Art critic Jerry Saltz eventually declared that Christie's "should be shunned by the art world" in a bold takedown for Vulture titled "Christie's Says This Painting Is by Leonardo. I Doubt It." Saltz's story was published the day before the auction, which saw the painting balloon from its expected price of around $100 million to $450 million, well over the world's previous most expensive painting, Picasso's $179-million Women of Algiers. He wasn't the only one to take issue with the canvas: the critic Jason Farago also wrote a story titled "That $450 Million Leonardo? It's No Mona Lisa." for the New York Times, whose editorial board, which typically sticks to politics, got together for a rare art-focused missive the day after. "Was it what Marx called 'commodity fetish,' driven to new heights in the rarefied strata of the hyperrich?" they pondered of why someone would ever fork over so much cash for a painting that some art historians have disputed is a real da Vinci, despite the fact that Christie's and various experts have certified it authentic.
Indeed, the painting and its sale have proven so controversial that even Seth Rogen has stepped into the fray, taking issue with the canvas's flatness, the contents of Jesus's orb, the fit within the rest of da Vinci's oeuvre, and the painting's mysterious origins. Here, the worst the critics, both newfound and established, have to say:
"This Jesus, far from saving the world, might struggle to save himself a seat on a crosstown bus." — Jason Farago, The New York Times
"Not only does it look like a dreamed-up version of a missing da Vinci, various X-ray techniques show scratches and gouges in the work, paint missing, a warping board, a beard here and gone, and other parts of the painting obviously brushed up and corrected to make this probable copy look more like an original." — Jerry Saltz, Vulture
"The painting is absolutely dead. Its surface is inert, varnished, lurid, scrubbed over, and repainted so many times that it looks simultaneously new and old. This explains why Christie's pitches it with vague terms like "mysterious," filled with "aura," and something that "could go viral." Go viral? As a poster, maybe. A two-dimensional ersatz dashboard Jesus." — Jerry Saltz, Vulture
"Whoever bought the painting must be possessed of supreme self-confidence." — The New York Times editorial board
"Even if the motive is a pure love of art, the price paid for the Leonardo testified to something gone wrong in the balance of value and values. It reflects a world in which the minute sliver of the obscenely rich see nothing untoward in parking hundreds of millions of dollars on a rare but unexceptional painting that may well spend the next several years in a tax-free storage facility." — The New York Times editorial board
"There are 450 million reasons why Leonardo da Vinci's Salvator Mundi isn't a masterpiece." — The Telegraph
"I can say … what I felt I was looking at when I took my place among the crowds who'd queued an hour or more to behold and endlessly photograph Salvator Mundi: a proficient but not especially distinguished religious picture from turn-of-the-16th-century Lombardy, put through a wringer of restorations." — Jason Farago, The New York Times
"It makes no sense to suddenly have Leonardo come to Florence only to become a hack painter of post-Byzantine portraits—which is what the narrative being promoted by Christie's subtly suggests. In fact, we know Leonardo did just the opposite, because in 1502 he painted the Mona Lisa. Salvator Mundi doesn't fit into his work no matter how you try to twist things." — Jerry Saltz, Vulture
"There's a meekness and monotony to Salvator Mundi that can't be redeemed by these marginally engaging details. The savior of the world appears in this painting as a soft, spumy cipher. His eyes are blank. His chin, flecked with stubble, recedes into shadow. The raised right hand is stiffer and less sensate than John the Baptist's, and overlit relative to his shaded cheeks and mouth." — Jason Farago, The New York Times
"I'd imagine that no great artist worth their name would stoop to being this obvious, especially this far into their career when they had total freedom to do whatever they liked and had a lifetime of always doing that in increasingly original ways." — Jerry Saltz, Vulture
"Christie's marketing department rolled out the superlatives … sending the painting on a world tour and hyping it with the rather sacrilegious nickname of 'the male Mona Lisa.'"— Jason Farago, The New York Times
"This kind of salesmanship is an old game: pure and simple greed, an irresponsible knowing flimflam that defrauds a mass audience into thinking it is 'appreciating' an old master when it's all smoky spectacle and mirrors." — Jerry Saltz, Vulture
"This was a thumping epic triumph of branding and desire over connoisseurship and reality." — art advisor Todd Levin to The New York Times
Even now that the painting's been sold, whether or not it deserves its now record-breaking, legendary place in art history is still a debate. There is one place, however, where the ongoing saga of Salvator Mundi indisputably belongs, as artnet News has discovered the internet has already gotten to work on: the meme canon.
Related: From "Genius" to "Ugh": The Most Extreme Reviews of Damien Hirst's Massive, Polarizing New Shipwreck of a Show in Venice
See Kendall Jenner, Performance Artist, Channel Icons Like Marina Abramovic and Yoko Ono: