Leonardo da Vinci's "Salvator Mundi" Painting Sells for Record Price of $450.3 Million
It just sold for a record-breaking price of $450.3 million.
---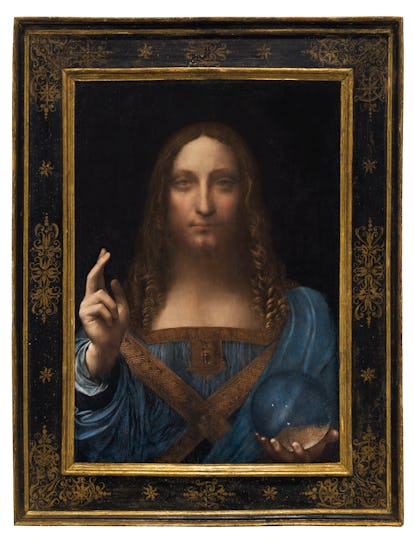 Courtesy of Christie's
Last month, it was revealed that a once-lost Leonardo da Vinci painting titled "Salvator Mundi" would be hitting the market for the first time in over 50 years — during which it was presumed to be gone forever. Tonight, the painting was auctioned off by Christie's for a record-breaking price of $450,312,500 in just 19 minutes. The painting was expected to sell for over $100 million — as that price tag was the opening bid — making it one of the priciest pieces of art to be sold at an auction, joining the ranks of Jean-Michel Basquiat's "Untitled," which fetched $110.5 million at a Sotheby's auction earlier this year. It also puts the painting far ahead of Picasso's "Women of Algiers," which until now held the record for the most expensive painting sale at $179 million, as the Washington Post notes.
What makes "Salvator Mundi" so special though isn't just its astounding auction price and the fact that it was formerly thought to be lost forever. It's just one of less than 20 known paintings by Leonardo da Vinci, according to BBC. Additionally, it has royal history as Leonardo da Vinci's "lost" painting once belonged in the art collection of England's King Charles I before it landed in an American estate sale in 2005, when it was rediscovered and later placed on view for the rest of the world to see the masterpiece up close at London's National Gallery in the exhibit Leonardo da Vinci: Painter at the Court of Milan.
Still, there has been a fair amount of doubt over whether or not the painting was actually created by da Vinci himself. Even after an exhaustive forensics process, which concluded it was indeed created on walnut with "many very thin layers of almost translucent paint" in the style of da Vinci's other works, as History.com noted, there are still skeptics within the art world. "Even making allowances for its extremely poor state of preservation, it is a curiously unimpressive composition and it is hard to believe that Leonardo himself was responsible for anything so dull," wrote Charles Hope, emeritus professor at the Warburg Institute at the University of London, the Washington Post points out. Dull or not, its new price tag is certainly far from boring. Not to mention, Leonardo DiCaprio also makes it look pretty special.