Leonardo DiCaprio Also Enjoyed Staring at "Salvator Mundi," the Lost da Vinci That Might Fetch $100 Million Tonight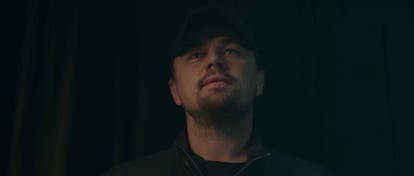 One might not normally expect to find Leonardo DiCaprio, Patti Smith, Alex Rodriguez, and Jennifer Lopez at the same party (well, the last two, perhaps), but this weekend, all four were among the estimated 4,500 attendees of an auction preview at Christie's. There, they had the chance to get eyes on "Salvator Mundi," a Leonardo da Vinci painting previously thought lost that is being touted as "The Last da Vinci" leading up to its auction tonight.
"The Last da Vinci," which dates to 1500 and is estimated to sell for around $100 million, is also the title of the new Christie's video promoting the piece's auction, an event that's getting the marketing treatment of a summer blockbuster movie. Supposedly shot from the perspective of Jesus (that is, from the perspective of the painting, which depicts Jesus as "Savior of the World"), it depicts various viewers gathered in front of the painting, many of them glassy-eyed with emotion. And, Where's Waldo-like, a keen-eyed observer might also spot Smith and DiCaprio, fresh off his 43rd birthday, among the video's subjects, albeit looking significantly less on the verge of tears than many of the other viewers.
After all, DiCaprio might just be there to get a few insights, Daniel Day-Lewis-style, into his next character: The Oscar-winner and climate justice enthusiast is slated to play Leonardo da Vinci in an upcoming biopic based on Leonardo da Vinci, the biography by Walter Isaacson. Paramount scooped up the rights to the film back in August, with DiCaprio slated to star in, and co-produce, the film, which will require him to grow his Revenant beard to unprecedented lengths.
Bringing things full circle, "The Last da Vinci" is scored by the Max Richter piece "On the Nature of Daylight," a movie-soundtrack staple that was recently used in the opening scene of Arrival and, before that, in Shutter Island, which, yes, starred DiCaprio, and was directed by Martin Scorsese, from whom DiCaprio is now practically inseparable. It's probably only a matter of time before Scorsese signs on to DiCaprio's da Vinci biopic. After all, they're also working on a Teddy Roosevelt biopic together. But Leo, while you're playing namesakes, where is that Teenage Mutant Ninja Turtles reboot?
Margot Robbie, who co-starred with DiCaprio in 'The Wolf of Wall Street,' is here to show you what vegemite sounds like: