Leonardo DiCaprio's Extravagant 43rd Birthday Party Was This Weekend's Hottest Date Night, For The Weeknd At Least
The Weeknd rolled up to the Oscar winner's exclusive party with Emily Ratajkowski.
---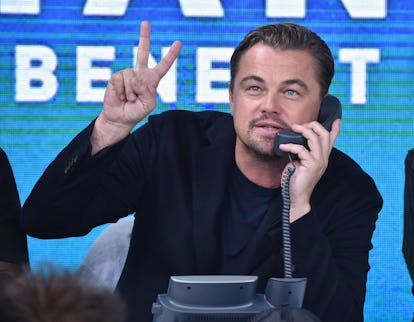 Theo Wargo/Hand in Hand/Getty Images
It doesn't have to be Leonardo DiCaprio's birthday to find the actor, environmentalist, and private jet aficionado in the club, but it certainly helps. As the now-43-year-old actor (as of Saturday) reaches middle age, his stamina for partying hasn't started to flag yet—as evidenced in his extravagant birthday party this weekend. (You won't find any evidence of the party on his Instagram, though.)
For the occasion—and mind you, 43 is no birthday in particular, certainly not a 16 or a 21 or, god forbid, a 50—DiCaprio took over the Highlight Room, a recently opened rooftop club at the Dream Hollywood hotel in Los Angeles, California, and filled it with models, fellow actors, and The Weeknd, as reported by E! News. (The Dream also houses outposts of Beauty & Essex and Tao, both of which also opened earlier this year, to offer a clearer image of the place. The Highlight Room opened in July.) Robin Thicke and his girlfriend April Love Geary showed up; former Gossip Girl star Jessica Szohr was there; and The Revenant director Alejandro González Iñárritu even put in an appearance.
Robert Pattinson and The Weeknd, both fresh off their respective breakups, also made their way to the Highlight Room for the evening. Pattinson, sans FKA Twigs, reportedly left alone, in an Uber, around 1:30 a.m. The Weeknd, aka Abel Tesfaye, sans Selena Gomez (or Bella Hadid, with whom he attended DiCaprio's 41st birthday, Leo's parties apparently being the ultimate date night), arrived in a white Bentley with model-actor Emily Ratajkowski. Don't read too much into this, though: The Weeknd, who an anonymous friend described as "an affectionate dude whether it's his girlfriend or not," according to E! News. "He has always been the romantic type."
This weekend alone, he went out with Ratajkowski, rode in a car and held hands with Yovanna Ventura, a 21-year-old model who had also previously been linked to Justin Bieber. (Yes, the same Justin Bieber with whom Selena Gomez is now rekindling her romance. Bieber and The Weeknd share wardrobes, too.) The Weeknd and Ventura also attended French Montana's birthday party together; before that, he was back in the club, dancing with another, unidentified woman.
As for the soundtrack at the DiCaprio fête, you ask? Actor Jamie Foxx, who is actually a musician, and director Quentin Tarantino, who is not, provided the night's musical entertainment, perhaps conjuring that chopped-and-screwed version of "Bang Bang (My Baby Shot Me Down)" you never knew you wanted, or needed. (When the Atlantic wrote "Quentin Tarantino Is a DJ" on the 20th anniversary of Pulp Fiction, this is not what they meant.)
DiCaprio, party animal, reportedly stayed out until dawn, which comes as no surprise given the mythology associated with his birthday parties. For his 41st birthday, Leo et al. descended on the New York nightclub Marquee (accompanied by The Weeknd, and, at that time, Bella Hadid); for 37, it was the Beach Haus in Kings Cross, Sydney, Australia, whose multiple guest lists (why have just one when you can have several) counted some 80 models among the attendees (and Robin Thicke). Also present: DiCaprio's longtime partner in crime Tobey Maguire, apparently spotted hydrating with, what else, sparkling water. Just last weekend, DiCaprio attended the Los Angeles County Museum of Art's Art and Film Gala, widely known as the "Met Gala of the West." Hydration is key for consecutive weekends of clubbing.
A Photographic Guide To Everyone Leonardo DiCaprio Has Publicly Dated
Leonardo DiCaprio dated model Kristen Zang for a year back in the '90s, where she acted as his date to the premiere of Romeo & Juiet.

Getty
Perhaps DiCaprio's most famously ex is Gisele Bündchen, whom he dated from 1999 to 2005.

Getty
The pair were serious for nearly six years, often spotted walking their dogs together.

Getty
The pair also often took in sporting events, a popular past time for DiCaprio and his girlfriends.

Getty
After splitting with Bündchen, DiCaprio moved on to Isreali model, Bar Rafaeli. The couple made a rare high profile appearance together at Berlin's Annual Cinema For Peace Gala in 2010.

Getty
The couple often took in basketball games, sitting courtside, of course, making for a few rare moments of DiCaprio allowing himself to be photographed with a girlfriend. Here, they watch the Lakers in 2010.

Getty
The pair dated for six years—the exact duration of his relationship with Bundchen—before splitting in 2011.

Getty
And again, the same year, DiCaprio shielded by a hat, as has become his fashion go-to.

Getty
In 2014, DiCaprio was spotted at the amfAR Gala in Cannes with his new lady, Toni Garrn, whom he dated for just over a year.

Getty
Before eventually getting together with Nina Agdal—whom he was never photographed with at a high profile event like a few of his other girlfriends—the actor dated a model Kelly Rohrbach in 2015, during which the pair were spotted together at the US Open. Agdal would go on to star in this weekend's Baywatch, while DiCaprio would continue to date models.

Getty
Margot Robbie, who starred alongside Leonardo DiCaprio in 'The Wolf of Wall Street,' is here to show you what vegemite sounds like: