Leonardo DiCaprio is Finally to Play a Namesake in the Upcoming Leonardo da Vinci Biopic
The actor will finally portray his namesake and fellow expert in anatomy.
---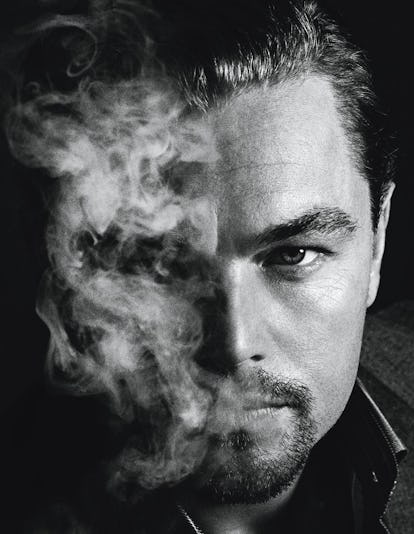 Having starred in Inception, it was only a matter of time before Leonardo DiCaprio further played with history and played his reported namesake and fellow Leo legend: Leonardo da Vinci. And that's exactly what the actor is set to do now that Paramount has finally won what was apparently a two-studio battle for the rights to the biography Leonardo da Vinci by Walter Isaacson. Indeed, it's even reportedly "craft[ing] it as a star vehicle" for DiCaprio to play the title role and co-produce the film, highlighting da Vinci's talents as both an artist and a scientist.
Other than the obvious, the pairing does actually make sense: Da Vinci was so talented in part because of his dedication to studying nature, from botany to fossils to anatomy. DiCaprio, of course, has a specialty in the latter, but is also a noted environmentalist; just last month, he flew commercial to his annual gala to raise money for the Leonardo DiCaprio Foundation, which supports efforts to preserve ocean and land habitats, to protect the rights of indigenous peoples, and to remedy climate change. (He's also capable of supporting the cause without, you know, personal performances from Madonna: A couple of months earlier—and after nearly two decades of environmental activism—he also took part in the Climate Change March in Washington, D.C., resourcefully creating a makeshift sign out of a recycled manila folder.)
Still, now that he's playing the other king Leo, though, there's a variety of others he's now also open to introduce to his oeuvre. Take Leo Tolstoy, for one, whose lengthy chronicles DiCaprio in a way has his own experience with, whether through his drawn-out struggles with the Department of Justice or even simply his illustrious dating history. There's also Ted Leo, the frontman of the rock group Ted Leo and the Pharmacists, whose single "Me and Mia" DiCaprio could easily adapt to "Me and Miami," referencing one of his favorite habitats.
And then there's Leona Lewis, a fellow animal lover, which brings us to the ultimate Leo that DiCaprio should definitely next portray: Leonardo the Teenage Mutant Ninja Turtle. The most spiritual of the emerald green tortoise troupe would no doubt most lend itself to the actor: After all, he's historically supported Eric Goode's Turtle Conservancy by attending the Turtle Ball, and a few years ago allegedly shelled out—sorry—$400 for a Sulcata tortoise when he dropped by the North American Reptile Breeders Conference and Trade Show.
Since there's no word on where that buddy's been lately—even though the creatures are known to live for up to a century—perhaps playing da Vinci is DiCaprio's first step to making amends with the species. Leo the turtle and the actor were both, after all, originally named after the painter.
Related: Inside Leonardo DiCaprio's Insane Saint-Tropez Gala with Madonna and Kate Winslet
Take a Look Back at Leonardo DiCaprio's Notorious Dating History: