Having Confiscated Leonardo DiCaprio's Oscar, the Department of Justice Is Now Eyeing Miranda Kerr's Diamonds
The government's investigation into 1Malaysia Development Berhad has so far cost DiCaprio an Oscar, a Picasso, and a Basquiat.
---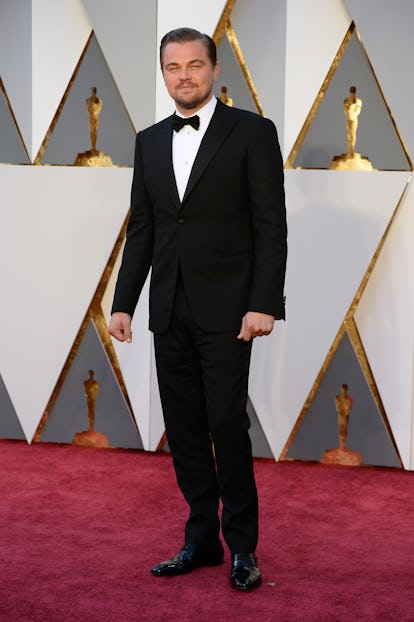 Leonardo DiCaprio's notoriously long and arduous road to winning an Oscar finally came to a close in 2016, when he at long last took home Best Actor for his role in The Revenant. Yet somehow, more than a year later, DiCaprio is still having Academy Award struggles: This week, he was forced to fork over his statuette—technically not his own, but one that was awarded to Marlon Brando.
The statuette had been gifted to DiCaprio by Red Granite Pictures, one of The Wolf of Wall Street's production companies, but the U.S. government recalled it because of its ongoing investigation into a money-laundering operation involving 1MDB, or 1Malaysia Development Berhad, which was founded by the stepfather of Red Granite principal Riza Aziz.
The stepfather is Malaysian prime minister Najib Raza, who was supposed to use 1MDB as a source of economic development for the Asian country, but is now being investigated as a proxy for bankrolling Raza and his associates, to the tune of more than $1 billion.
The investigation is extensive enough that DiCaprio has also had to turn in a $3.2 million Picasso and a $9 million Jean-Michel Basquiat. Last summer, after learning of the government's planned civil action against some of those involved in the production of The Wolf of Wall Street, some of DiCaprio's representatives actually contacted the U.S. Department of Justice, and DiCaprio himself gallantly volunteered to return the paintings to the feds.
The Picasso, for one, appears to have been given to DiCaprio as a gift by Jho Low, a billionaire Malaysian financier who was working with the fund and is at the center of the investigation. Low seems to have been equally benevolent to Miranda Kerr, the newlywed model whom he apparently [showered]($1.6 billion worth of assets) with diamonds over the course of their year-long relationship.
Unfortunately for Kerr, though, the jewels—which started arriving after she divorced Orlando Bloom in 2014, and quickly amounted to millions—turn out to be part of the $1.6 billion worth of goods the Department of Justice is now attempting to recover.
Kerr has been "cooperating fully," though unlike DiCaprio, she's been able to hold onto them for now. Here's hoping the millions Low reportedly used to pay Paris Hilton to party with him also weren't embezzled—and that Lindsay Lohan never drank the 23 bottles of Cristal he sent her on her 23rd birthday.
Supermodel Miranda Kerr Knows How to Balance Super Sexy and Ultra Feminine
Kerr attended the 2008 launch of a new Victoria's Secret bra in a colorful strapless frock.

Getty
Showing off a new blonde hairstyle, Kerr matched her hue to a light colored frock for a Victoria's Secret event in 2009.

Getty
Back to her darker roots, Kerr chose a metallic mini for Victoria's Secret 5th Annual "What Is Sexy?" Bombshell edition party in 2010.

Getty
Kerr showed off her playful side in a cheery floral dress at the launch of a new Victoria's Secret fragrance.

Getty
At W's Best Performances issue party at Chateau Marmont in 2012, Kerr chose a slinky white satin dress.

Getty
Kerr attended the 2011 CFDA Fashion Awards in a black gown with side cut-outs.

Getty
For the 2011 Victoria's Secret Fashion Show, Kerr arrived in a leopard print bustier dress.

Getty
Kerr arrives at the 9th Annual G'Day USA Los Angeles Gala in 2012 in a white dress with black leather straps across the stomach.

Getty
Showing off her girly side, Kerr chose a light blue, floral dress for a 2012 Golden Globes party.

Getty
Sticking with the blue hue, Kerr arrives at the 2012 Women Of Style Awards in Australia in 2012.

Getty
Kerr attended the 2011 Met Gala with then-husband Orlando Bloom, wearing a frothy white dress.

Getty
For a 2012 music video premiere, Kerr opted for a Stella McCartney LBD.

Getty
Kerr takes a more gothic turn in this black lace number with long-sleeves at the 2013 Vanity Fair Oscar Party.

Getty
Kerr attends the 2012 Just Cavalli Soho Flagship store opening in a wild animal print dress by the brand.

Getty
Kerr shows off a revealing side slit and open back while attending a 2014 Golden Globes party.

Getty
At the 2015 Vanity Fair Oscar Party, Kerr goes the Grecian goddess route in a white dress with metallic accents.

Getty
A sweet and girly moment for the model, at the opening night of "Romeo And Juliet" on Broadway in 2013.

Getty
The model shows off her legs in a metallic mini at the 2015 Met Gala.

Getty
A look only a supermodel could pull off: Kerr wears a belt around her abs, in Calvin Klein, at a Los Angeles event in 2015.

Getty
Kerr chose a slinky silver gown for the 2014 Vanity Fair Oscar Party.

Getty
Showing off her edgier side, Kerr takes in the Saint Laurent runway show in a leather mini, leopard print jacket, and oversized choker.

Getty
Pictured with now-husband Evan Spiegel, Kerr opted for peekaboo white at a 2016 Grammys party.

Getty
Kerr arrives at the 6th Biennial UNICEF Ball in 2016 wearing a disco-ball-esque Louis Vuitton dress.

Getty
Red hot. Kerr shows more than a little skin in this cherry number at the 2016 Vanity Fair Oscar Party.

Getty
Kerr goes colorful in Carolina Herrera, including a thigh-high slit, at a Los Angeles party in 2017.

Getty
For the 2016 Met Gala, Kerr wore a risky Louis Vuitton design that she pulled off like only a supermodel can.

Getty
Kerr stood out in vibrant pink and red at the Louis Vuitton Spring 2017 show in Paris.

Getty
Kerr dazzled at the 2017 Vanity Fair Oscar Party in a pale blue gown by Prada.

Getty
At this year's Met Gala, Kerr turned heads in a vintage-inspired Oscar de la Renta gown.

Getty
See Paris Hilton Break Down Her Favorite 2000s Trends, and Why They're Still Hot: