Leonardo Da Vinci's Salvator Mundi's Buyer Has Been Revealed as a Saudi Prince
Even Christie's had never heard of him until the day before the auction.
---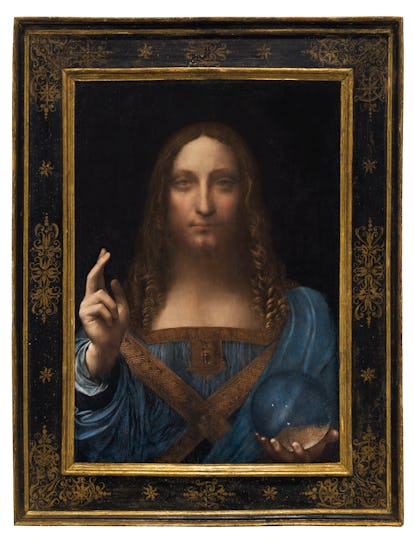 Courtesy of Christie's
After a spectacle of a publicity campaign comparable to that of a summer blockbuster movie, Christie's expected Salvator Mundi, reportedly Leonardo da Vinci's last painting in private hands, to sell for around $100 million. In a record-breaking auction, however, the painting ended up going for $450 million, solidly eclipsing Picasso's $179-million Women of Algiers as the most expensive painting ever sold—and causing an outpour of backlash as many decried the triumph of marketing and branding over the quality of the actual artwork. It could prove to be a precedent that doesn't bold well for the future of the art market.
The painting, which Sotheby's sold for a mere £45 less than 100 years ago, has gone through quite the journey since it was first created around the year 1500, falling into the possession of everyone from King Charles I to a Russian fertilizer salesman with connections to Donald Trump. Still, its most recent owner remained unknown until this week—and, it turns out, completely unknown to Christie's until the day before the auction. The buyer, it turns out according to The New York Times, was the magnificently named Bader bin Abdullah bin Mohammed bin Farhan al-Saud—one of Saudi Arabia's 5,000 princes, who has no previous history as a major art collector, appears to be rarely photographed, and maintains an air of secrecy when it comes to his apparently massive wealth.
Update: Christie's has since confirmed that Prince Bader himself was not the actual buyer, but rather was an agent who placed the bid on behalf of Abu Dhabi's Department of Culture and Tourism. More information on that here. Original post continues below.
Prince Bader only presented himself as a bidder on the painting at the very last minute, which, according to the Times, caused a scramble at Christie's to establish his identity and financial means—even after he put down a $100-million deposit. Even then, Christie's lawyers remained suspicious, persisting in asking him where he got the money and what his relationship was with the Saudi ruler, King Salman. Prince Bader's responses were as shrouded as mystery as the painting itself: the money came from "real estate," and he was "just one of 5,000 princes" in Saudi Arabia. (So modest!)
The latter detail, however, was in fact far from reassuring: Saudi Arabia's many princes have caused quite a stir in the news lately, as last month the country's government detained more than 200 people in a crackdown on corruption and embezzled funds amounting to hundreds of billions of dollars, which included singling out many of its most prominent princes. The mass purge was in fact ordered by Crown Prince Mohammed bin Salman, who organized a series of midnight arrests that included 11 of his royal cousins—who happens to be one of Prince Bader's friends and associates.
But Prince Mohammed, whom the Times describes as King Salman's favored son and key adviser, has himself been criticized for his spending habits, including impulsively spending half a billion dollars on a yacht last year while at the same time slashing capital spending by 71 percent. As he and King Salman have also suspiciously appointed Prince Bader to head up the Saudi Research and Marketing Group and another government commission, all this only seems to make Prince Bader's sources of income even murkier—and particularly his motivations in making such a public display of his mysterious wealth on an item that may cause some cultural conflicts in his country. After all, it is a painting of Jesus. Muslims may not see Jesus as the savior, but he is still considered a prophet. Depictions of any religious figures remains controversial amongst a faith that traditionally forbids idolatry.
As for Prince Bader, when he's not palling around with Prince Mohammed, he also works on side projects like partnerships with those ranging from Verizon to Michael Bloomberg, as well as large program he founded to manage the country's recycling. All that seems to have put together enough income for him to be able to offer to pay for the painting in a lump sum. Christie's however, decided it would be better to put the Prince on a six-payment installment plans that's calculated right down to the cent.
Sure, much about Prince Bader—not to mention Salvator Mundi itself—remains a mystery, at least one thing's for certain: Though the painting might ultimately end up tucked away in a storage facility, as several critics predicted, it will definitely at first be making a stop at the new Louvre Abu Dhabi. (Not that it's known exactly when that'll happen or how long it'll be on view.)
Related: All the Most Vicious, Questioning Takedowns of Leonardo da Vinci's $450-Million Painting Salvator Mundi
See Kendall Jenner, Performance Artist, Channel Icons Like Marina Abramovic and Yoko Ono: