Grimes Turned Her European Trip Into 7 Brand New Music Videos
During downtime on their summer tour, Grimes and her opening act Hana made a "guerilla style" visual album.
---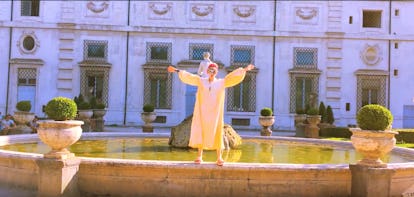 Screenshot via Grimes' YouTube
There is a reason most people don't want to sit down and see a full on visual documentation of your latest trip. Scrolling through dozens of pictures of your head in front of well-known landmarks is not the optimal way to spend someone else's time.
Grimes, it should be certain by now, is not most people. When she goes to Europe and whips out her camera phone she does not come back with selfie-stick portraits of her face awkwardly smiling with the Eiffel Tower somewhere off in the distance.
Rather, she comes back with seven whimsical music videos.
The musician also known as Claire Boucher spent a good chunk in her summer overseas on her "Ac!d Reigns" tour with her opening act and new BFF Hana (if you're not already, get familiar with her here). Because Grimes is apparently one of those people who can't go very long without working on some new creative endeavor, she decided to enlist Hana and her brother, Mac Boucher, on a project to shoot a video on cell phone cameras for her Art Angels track "World Princesses Part II."
The intention was to shoot the video "guerrilla style" without crew, makeup, or lighting. The trio liked the results so much that they just decided to shoot seven whole music videos, four for Grimes's songs and three for Hana's.
The Grimes tracks, all off of Art Angels, are "World Princess part II," "Butterfly," "Scream (featuring Aristophanes)," and "Belly of the Beat." The Hana tracks are "Chimera," "Underwater," and "Avalanche." All seven videos were combined into a mini-film dubbed "The Ac!d Reigns Chronicle," a narrative of whimsical wilding out in front of old castles and in the European countryside styled in a uniquely "Grimes" way.
You can watch the individual cuts of the videos if you so please on Grimes' and Hana's individual YouTube channels, though they are best watched together. It makes sense as a visual album, albeit mashed up from two separate audio albums by two separate articles. Which, we guess, would technically make it a "visual mixtape."
In any event, remember when, a few years ago, the music world was worried about the death of the album? In a world where people prefer to buy songs $0.99-a-pop off of iTunes or curate them into their own playlists on services like Spotify, would artists even be able to present collections of songs as a full vision anymore?
As unplanned as it may be, Grimes and Hana are the latest to prove that artists can still take control of how their own songs are consumed.