Grimes Released an Unfinished Music Video You're Supposed to Complete
There's no better time to learn how to direct music videos, we suppose.
---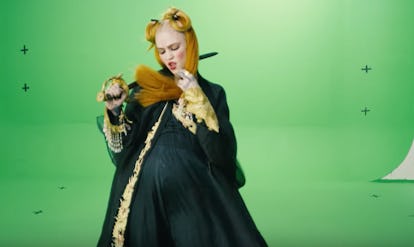 We are still occasionally being treated to the release of traditional music videos completed before the age of social isolation. Eventually that well will dry up and artists will have to get creative if they want to provide new visuals.
Grimes, leading the pack, today released a new clip for her track "You'll Miss Me When I'm Not Around," but it's not all that much. It's just the singer carrying a samurai sword with a pair of mechanical wings on her back (which, okay, might actually be a lot otherwise, but not by Grimes standards). In it she stands before a green screen, which is where she wants you to come in.
"We shot 5 of these greenscreen 'lyric videos' so we could have visuals for the album," she wrote underneath the upload. "Anyhow—because we're all in lockdown we thought if people are bored and wanna learn new things, we could release the raw components of one of these for anyone who wants to try making stuff using our footage."
She also provided a link to a We Transfer file that includes raw footage and stems of the actual song along with suggestions for free or discounted editing software. In other words, she wants you to try your own hand at completing it.
This is like the A/V version of an adult coloring book, essentially.
Eventually, she'll showcase her favorites to her own social platforms.
It's only been four hours, but there are already some basic attempts uploaded on YouTube set to things like anime footage or screensaver-esque visuals. Undoubtedly, someone out there has something more captivating up their sleeves. If you've already figured out how to get a fancy background in your Zoom chats, you're probably already halfway there.
"We were inspired by all the amazing art that gets sent our way, so hoping some of these things are of use when the days are long and lonely," the singer wrote.
What better time to learn how to become a music video director?
Related: Grimes Explains How She's A Bernie Supporter Who Dates a Billionaire