Gucci Mane's Wedding Is Streaming Live, Expect Smiles As Bright As Diamonds
Atlanta rapper Gucci Mane's lavish wedding to Keyshia Ka'oir will air live on BET.
---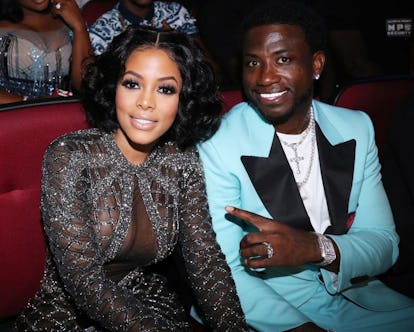 Johnny Nunez/Getty Images
Radric Davis, better known by his stage name, Gucci Mane, has been adamant about livestreaming his relationship with longterm girlfriend Keyshia Ka'oir, a model and owner of an eponymous cosmetic line. Now, The Mane Event, the Atlanta rapper's wedding to Keyshia Ka'oir at the Four Seasons Miami, will air on BET in 10 parts (10!), starting with the wedding which will be live-streamed tonight at 10 pm EST (the events leading up to the ceremony will be broadcast later). The date of the ceremony, October 17, by the way, is inspired by Gucci Mane's self-established label, 1017 Records.
Keyshia Ka'oir can be credited with inspiring her fiancé to get fit and eat healthy after his release from prison last May, and for over a year, the two have shared their relationship on Snapchat and Instagram, including Gucci Mane's proposal to Ka'oir on the Kiss Cam at an Atlanta Hawks game last November. Referring to themselves as The Wopsters—a riff on Gucci Mane's nickname, Guwop—Ka'oir has expressed her excitement on social media, sharing photos and videos of their wedding rehearsal and matching red outfits.
After surprising Gucci Mane with some jewelry—including a diamond-encrusted bowtie for him to wear during their wedding ceremony—Ka'oir was gifted a Rolls-Royce Wraith in return (hers is turquoise to match his red). Following his role in Harmony Korine's Spring Breakers and a sold out, stripped-down performance with Zaytoven in New York earlier this year, a live wedding should be a piece of cake. Look forward to lots of lavish gifts, diamonds on everything and everyone, and wholesome smiles everywhere. There might also be appearance from Miami rapper Trina, who's set to be the only celebrity bridesmaid at the event. It would be tough to not crack a smile as wide as Gucci Mane's when checking out the celebratory shots Mr. and Mrs. Davis have shared on social media in honor of their upcoming nuptials.
Related: Inside Gucci Mane's One-Night-Only Piano Bar Show with Zaytoven
See W's most popular videos: