Gucci's Secret to Success? A "Shadow Committee" of Millennials
Meet the Millennial Mafia.
---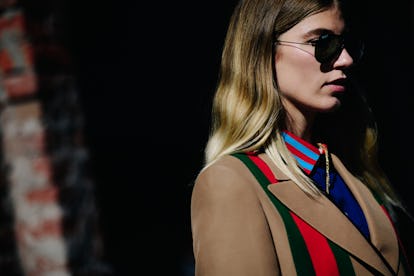 2017 Adam Katz Sinding
Gucci couldn't be hotter right now. Sales are up 49 percent in the last quarter alone. Cool kids can't get enough of it. Red carpets are awash in their statement gowns. Everyone from mall brands to other high-end designers seem to be taking inspiration from creative director Alessandro Michele's particular aesthetic. It's as if the entire globe wishes to trim itself in that green and red racer stripe and festoon itself in sparkling snake accoutrements.
Certainly, Michele deserves much praise for the storied Italian fashion house's recent turn around, but chief executive Marco Bizzarri, who was brought on alongside Michele in 2015, recently revealed that the company has a secret weapon: a "shadow committee" of millennials under 30.
At first, we imagine this secretive group to be a collection of the world's most tragically hip young people: the exact French girl everyone is always telling you to dress like, a Tokyo hypebeast, a cutting edge meme-maker, a 13-year-old Instagram style star who mixes Gucci with the Target little girls' section with archive Comme, a Bushwick artist whose preferred mediums are hype and open bar experiences, Harry Styles.
The reality is slightly less fantastical, but still key to Gucci's success. It's a group of under-30 Gucci employees that Bizzarri has taken to meeting with periodically.
"It is a committee that is structured with people below the age of 30," Bizzarri said at WWD's Apparel & Retail CEO Summit according to Quartz. "The task is either discussing the same topics that we discuss in the normal meeting with executives, or giving me ideas on different processes."
He also frequently lunches with young employees and asks them for three ideas about how to improve the company.
As one example of what the group has achieved, Bizzarri offered up the fact that the company has begun to cut leather for their handbags in a different way so not to waste as much material. Though he didn't mention it specifically, it wouldn't be a surprise if Bizzarri's recent announcement that Gucci would go fur-free had its roots in the shadow committee. "It's a little bit outdated," he said of fur at the time, and the man should know. He has a shadow committee of cool kids at his disposal.
Bizzarri doesn't let this group or any other business group in the company affect Michele's vision. He says he never even discusses sales figures with Michele, and prefers to just let him do what he does best. In fact, putting emotion and creativity at the forefront is also part of Gucci's success. "Culture eats strategy for breakfast," he said, echoing a popular maxim.
While other brands' answer to the millennial question seems to be putting influencers in campaigns and coming up with lots of hashtags, it certainly seems like Gucci's found a better way to engage with the coveted demographic: actually listening to them.
Related: How Aliens Do Fall 2017, According to Gucci
The Gucci-est Street Style Looks From the Gucci Show
Street style outside of the Gucci SS18 runway show in Milan on Wednesday, September 20th during Milan Fashion Week. Photo by Adam Katz Sinding for W Magazine.

2017 Adam Katz Sinding
Street style outside of the Gucci SS18 runway show in Milan on Wednesday, September 20th during Milan Fashion Week. Photo by Adam Katz Sinding for W Magazine.

2017 Adam Katz Sinding
Street style outside of the Gucci SS18 runway show in Milan on Wednesday, September 20th during Milan Fashion Week. Photo by Adam Katz Sinding for W Magazine.

2017 Adam Katz Sinding
Street style outside of the Gucci SS18 runway show in Milan on Wednesday, September 20th during Milan Fashion Week. Photo by Adam Katz Sinding for W Magazine.

2017 Adam Katz Sinding
Street style outside of the Gucci SS18 runway show in Milan on Wednesday, September 20th during Milan Fashion Week. Photo by Adam Katz Sinding for W Magazine.

2017 Adam Katz Sinding
Street style outside of the Gucci SS18 runway show in Milan on Wednesday, September 20th during Milan Fashion Week. Photo by Adam Katz Sinding for W Magazine.

2017 Adam Katz Sinding
Street style outside of the Gucci SS18 runway show in Milan on Wednesday, September 20th during Milan Fashion Week. Photo by Adam Katz Sinding for W Magazine.

2017 Adam Katz Sinding
Street style outside of the Gucci SS18 runway show in Milan on Wednesday, September 20th during Milan Fashion Week. Photo by Adam Katz Sinding for W Magazine.

2017 Adam Katz Sinding
Street style outside of the Gucci SS18 runway show in Milan on Wednesday, September 20th during Milan Fashion Week. Photo by Adam Katz Sinding for W Magazine.

2017 Adam Katz Sinding
Street style outside of the Gucci SS18 runway show in Milan on Wednesday, September 20th during Milan Fashion Week. Photo by Adam Katz Sinding for W Magazine.

2017 Adam Katz Sinding
Street style outside of the Gucci SS18 runway show in Milan on Wednesday, September 20th during Milan Fashion Week. Photo by Adam Katz Sinding for W Magazine.

2017 Adam Katz Sinding
Street style outside of the Gucci SS18 runway show in Milan on Wednesday, September 20th during Milan Fashion Week. Photo by Adam Katz Sinding for W Magazine.

2017 Adam Katz Sinding
Street style outside of the Gucci SS18 runway show in Milan on Wednesday, September 20th during Milan Fashion Week. Photo by Adam Katz Sinding for W Magazine.

2017 Adam Katz Sinding
Street style outside of the Gucci SS18 runway show in Milan on Wednesday, September 20th during Milan Fashion Week. Photo by Adam Katz Sinding for W Magazine.

2017 Adam Katz Sinding
Street style outside of the Gucci SS18 runway show in Milan on Wednesday, September 20th during Milan Fashion Week. Photo by Adam Katz Sinding for W Magazine.

2017 Adam Katz Sinding
Street style outside of the Gucci SS18 runway show in Milan on Wednesday, September 20th during Milan Fashion Week. Photo by Adam Katz Sinding for W Magazine.

2017 Adam Katz Sinding
Street style outside of the Gucci SS18 runway show in Milan on Wednesday, September 20th during Milan Fashion Week. Photo by Adam Katz Sinding for W Magazine.

2017 Adam Katz Sinding
Street style outside of the Gucci SS18 runway show in Milan on Wednesday, September 20th during Milan Fashion Week. Photo by Adam Katz Sinding for W Magazine.

2017 Adam Katz Sinding
Street style outside of the Gucci SS18 runway show in Milan on Wednesday, September 20th during Milan Fashion Week. Photo by Adam Katz Sinding for W Magazine.

2017 Adam Katz Sinding
Street style outside of the Gucci SS18 runway show in Milan on Wednesday, September 20th during Milan Fashion Week. Photo by Adam Katz Sinding for W Magazine.

2017 Adam Katz Sinding
Street style outside of the Gucci SS18 runway show in Milan on Wednesday, September 20th during Milan Fashion Week. Photo by Adam Katz Sinding for W Magazine.

2017 Adam Katz Sinding
Street style outside of the Gucci SS18 runway show in Milan on Wednesday, September 20th during Milan Fashion Week. Photo by Adam Katz Sinding for W Magazine.

2017 Adam Katz Sinding
Street style outside of the Gucci SS18 runway show in Milan on Wednesday, September 20th during Milan Fashion Week. Photo by Adam Katz Sinding for W Magazine.

2017 Adam Katz Sinding
Street style outside of the Gucci SS18 runway show in Milan on Wednesday, September 20th during Milan Fashion Week. Photo by Adam Katz Sinding for W Magazine.

2017 Adam Katz Sinding
Street style outside of the Gucci SS18 runway show in Milan on Wednesday, September 20th during Milan Fashion Week. Photo by Adam Katz Sinding for W Magazine.

2017 Adam Katz Sinding
Street style outside of the Gucci SS18 runway show in Milan on Wednesday, September 20th during Milan Fashion Week. Photo by Adam Katz Sinding for W Magazine.

2017 Adam Katz Sinding
Watch This Gucci Fantasy: