How Aliens Do Fall 2017, According to Gucci
'70s denim and brocade look good in outer space.
---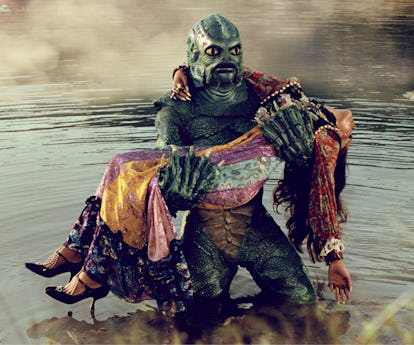 Back in April, Gucci started teasing its Glen Luchford-shot Fall 2017 campaign on Instagram with a handful of short videos introducing the cast of the new project: models, dressed as aliens, clad in the latest Gucci. In one clip, an extraterrestrial brandishes a spear; in another, an alien extolls the possibilities of a time portal. And on Tuesday, Gucci finally unveiled the short film #gucciandbeyond, a montage that borrows heavily from Star Trek and "motifs from sci-fi of the 50s and 60s," according to the description on Instagram—and, of course, Gucci's latest menswear and womenswear collections.
The short plays like a film trailer, flashing between moments of action—in one, a series of models are about to be beamed down to an alien planet, while in another, two fend off a Tyrannosaurus rex. (The title card reading "Coming Soon" towards the end of the clip doesn't hurt impressions that this might make an excellent, and well-costumed, summer blockbuster. Watch out, Star Wars.) Some well-known figures make cameos, in addition to the cast of aliens Gucci devised: The Creature from the Black Lagoon emerges from a swamp, cradling a model in his arms (à la Forbidden Planet); elsewhere, Star Trek set pieces are so prominent that Gucci even credits CBS for the material. One bright red Gucci suit with a black collar looks a whole lot like the Star Trek captain's uniforms, when plucked off the runway and placed in a spaceship corridor. There are also some moments of quintessentially Gucci juxtaposition of influences: In one frame, models hurry across a field of grass populated by cows, charging towards a silver UFO hovering over the meadow. And they're wearing silk and brocade.
When teasers debuted in April, Gucci garnered some criticism—a Central Saint Martins student, Pierre-Louis Auvray, accused the brand of plagiarizing from his own Instagram. (Auvray posts images of runway looks with alien faces superimposed over the models.) But, as creative director Alessandro Michele pointed out in response, while Auvray had only started making his collaged images two months prior, planning for the Fall 2017 campaign had been underway for significantly longer. It's not like either Gucci's new collection of Auvray's images were unique, either: the Fall 2017 runway was rife with science fiction imagery, from Bill Nye's appearance at New York Fashion Week: Men's to Chanel launching an actual rocket from the center of its runway.
The campaign pushes Gucci's Fall 2017 collection farther into space than even its runway managed. Alessandro Michele showed his massive, co-ed presentation in a neon-lit plexiglass tunnel, soundtracked by Jóhann Jóhansson's "The Rocket Builder," a song that also featured prominently in the Netflix science fiction series The OA. In the Glen Luchford and Christopher Simmonds-devised video, Michele's futuristic vision finally gets the set pieces it deserves. And, it turns out, aliens wear Gucci pretty well.
Related: That Feeling When Gucci Drops Its Own Fire, High-Fashion Memes
Jodie Comer's parents weren't thrilled about her nude scenes in The White Princess:
Gucci Was the Brand of Choice for Artists (and Rihanna) at Coachella
Rihanna wore a crystal mesh bodysuit and logo T-shirt featuring handwriting by Coco Capitan from Gucci fall 2017 collection and a pair of Gucci sunglasses to Coachella 2017.
Alaina Moore and Patrick Riley of Tennis both wore Gucci to Coachella 2017. Alaina wore a Gucci shirt with cuffed pants and pair of Gucci sunglasses and Patrick wore a tiger polo from the cruise collection.

Emma McIntyre/Getty Images
A$AP Rocky wore Gucci ski goggles when he joined Gucci Mane on stage for the second weekend of Coachella 2017.

Frazer Harrison
Oliver Sim of The XX wore a Gucci Spring 2017 floral embroidered shirt with wool trousers to Coachella 2017.

Kevin Winter
Romy Madley Croft of The XX wore a Gucci bomber jacket while performing at the second weekend of Coachella 2017.

Kevin Winter
Oliver Sim of The XX wore floral Gucci pants to perform at the second weekend of Coachella 2017.

Kevin Winter
Jamie Smith of The XX wore a Gucci Spring 2017 shirt with flower and dragon embroideries and embroidered pants to play Coachella 2017.

Kevin Winter
Brian D'Addario of The Lemon Twigs wore a Gucci tartan Heritage suit by Alessandro Michele to Coachella 2017 weekend one.

Rich Fury