Gucci's Models Shot Themselves Kissing Cats and Doing Lockdown Karaoke
The Gucci gang sings some Britpop and kisses some cats.
---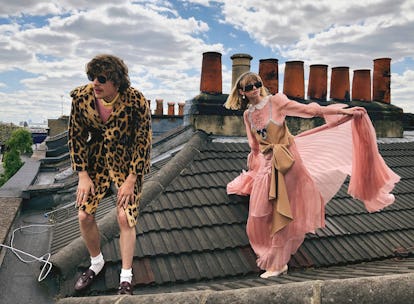 Image courtesy of Gucci. Creative Director: Alessandro Michele Art Director: Christopher Simmonds Photographer/Director: models Hair stylist: models Make up: models
Several industries have had to adjust to working from home this year. That even includes the very specific slice of industry made up of Gucci models. In lieu of a traditional campaign, creative director Alessandro Michele and the campaign's Christopher Simmonds entrusted a handful of his favorite runway muses to not only pose in his fall-winter 2020 collection at home, but to actually produce the entire project themselves.
The model cohort, which includes Amanda Ljunggren, Aaron Aguiar, Lamine Lo, Hannah Vincent, and Vaquel, did their own hair and makeup, captured themselves on a variety of devices including disposable cameras and their smartphones, and also took the time to record themselves singing along to Supergrass's Britpop anthem "Alright." Think of it as the chicest Zoom karaoke party ever.
The clip, which we're premiering in full here, finds the group doing some typical lockdown activities (making coffee, vacuuming, giving their cats some kisses) and some not-so-typical (indoor skateboarding, harp practice, putting lipstick on fruit, and a magic trick involving setting a wallet on fire).
Michele is dubbing the campaign as "The Ritual," and the idea sits in line with Gucci's recent show, which took audiences behind the scenes of a campaign with a twelve hour livestream. This campaign, however, goes further by eliminating the idea of any scenes to be behind in the first place. It's just models living their lives during lockdown while just happening to be decked out in head-to-toe Gucci.
"I decided to let the clothes travel towards the houses of the cast of models – the characters that have embodied my stories for years; individuals I chose precisely, over time, for their uniqueness that usually brings my campaigns to life. I asked them to represent the idea they have of themselves, to go public with it, shaping the poetry that accompanies them. I encouraged them to play, improvising with their life", Michele explained in a statement.