The New Guard: Guillaume Henry
French dressing, according to Carven designer Guillaume Henry, is effortless and gimmick-free.
---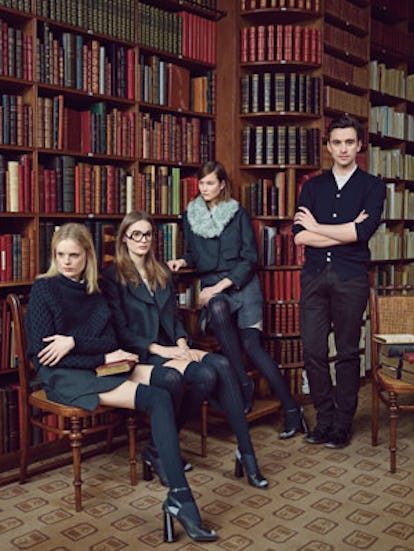 The fashion industry, with its breakneck pace and endless drama, can make even the most innocent idealist jaded. But after four years at the helm of Carven, Guillaume Henry remains lovably bright-eyed and bushy-tailed. He has good reason to be: Since 2009, when he was appointed creative director of Carven, an all-but-forgotten French couture house that peaked in the '50s, the 34-year-old designer has transformed the brand into a critically lauded—and profitable—ready-to-wear label beloved by women across the style spectrum, from Beyoncé and Rihanna to Isabelle Huppert and Emma Watson.
"I believe in sensuality more than in girls on the street who are practically naked," Henry says between bites of croque monsieur at Café de Flore in Paris. He describes his designs as "quiet," but there is often a bit of coquetry involved—a prim white collar here, a bustier there. What he calls "the Carven silhouette" includes full skirts with trim midlines cut two inches above the natural waist, a sweet rather than sirenlike look that's about as universally flattering as fashion gets.
Henry, who started in the atelier at Givenchy and also worked at the French sportswear label Paule Ka, says he hasn't quite wrapped his head around the fact that Carven is now seen as a brand that counts. "When we did our first presentation, for spring-summer 2010, we were happy that a few journalists came by the studio," he says. "We had only just bought proper lights the day before. Now our shows are at the Grand Palais, and so many important people attend. I still don't believe it." The company has grown from a staff of five, including Henry, to 60, occupying a five-story building in Saint-Germain-des-Prés. After early success in Barneys and on Net-a-porter­.com, Carven now has 700 points of sale worldwide. (By way of comparison, Marni has 320.) There is a boutique in the Marais planned for the year-old men's line, and the location of a New York women's flagship is almost finalized. Henry is launching his first scent, Le Parfum, for women, in the fall; the juice was created by acclaimed nose Francis Kurkdjian, known for Acqua di Parma's Iris Nobile and Jean Paul Gaultier's Le Mâle. A men's fragrance will follow.
Very often, it is at this moment of becoming an It designer that people give in to the temptation to turn their personal quirks into full-blown branding exercises. But don't expect to see Henry, who freely admits, "How I dress has no interest at all," adopting a costume for a runway bow. And he is not the guy to close down Le Baron every week, either, choosing instead to blow off most parties and leave work at the office. He has Inès de la Fressange on speed-dial, and Alexa Chung is a strong supporter; but Henry's only real muses are girlfriends who prefer to remain anonymous. "They don't want to be swallowed up by a coat or wear a jumper that's 300 kilos," he says, turning away from his sandwich to greet a young woman—a textile designer—who he suggests might be one of his inspirations. She has a messy ponytail and pink cheeks and is wearing a tossed-on gray overcoat and very little makeup.
Yet for all this casual everydayness, Henry has been a fashion junkie since the age of 9. He grew up in a small farming village in Eastern France and decided he wanted to become a designer after seeing reports about the haute couture shows on television. His parents, "happy I was interested in anything at all," gave him a sewing machine when he was 12 and indulged his tendency to turn towels into daywear and make elaborate plastic jewelry for his mother. Henry plastered his walls with pictures of clothes by Christian Lacroix and Vivienne Westwood: "Above my bed, there was a photo of Azzedine Alaïa dressing Naomi Campbell." At 13, he even wrote to Lacroix for advice. "The first thing I said was that I wasn't ready to send him my sketches," Henry admits, rolling his big blue eyes. "But eventually I sent him copies because I didn't want to give away the originals. Can you believe it? They were terrible, but I thought I was a genius. Still, he wrote back—and he didn't judge me for it."
Models: Hanne Gaby, Tilda Lindstam, Weronika Dus at IMG Models. Location courtesy of Librairie Auguste Blaizot, Paris.