Gwyneth Paltrow Made Me Do a "Digital Detox"
And it broke my MacBook. Or maybe I just couldn't really unplug?
---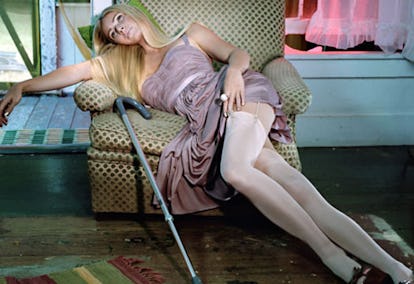 Gwyneth Paltrow made me do it. Or at least that's what I'm going to tell the Genius Bar at the Apple store.
At goop's holiday pop-up shop in New York City this past December, I discovered a purported "Digital Detox bath mixture" from Pursoma, a detox beauty company founded by the former model Shannon Vaughn. The description on the back of the package got straight to the point: "This bath is no joke. Put down your cell phone. Shut off the computer."
Pursoma's particular combination of sea salt and clay supposedly "aids in environmental detoxification," or in other words just relaxes and cleanses your system. The "digital detox" part comes from the fact that technology is what stresses us out. The funny thing is, because it's my job to be plugged-in 24-7, unplugging really freaks me out.
After spending several hours on both my computer and iPhone this Sunday, I poured myself a hot bath for the first time since I was small enough to fit length-wise in the tub. Per Pursoma's instructions, I drank 6-18 ounces of water beforehand. I then added the "hand-harvested" French grey sea salt, stirring it with my foot until it dissolved. I slipped into the tub and added the key ingredient: French green clay, which contains montmorillonite.
According to Pursoma, sea salt stimulates circulation and relaxes our joints and muscles, while montmorillonite clay "assists in drawing out unhealthy toxins." Aha. That explains the need to drink lots of water before and after the bath.
So, there I was, stuck in warm grey clay water for the next 15-20 minutes. I was…immediately bored. Anticipating this, I brought my MacBook Pro laptop with me into the bathroom. The only way I know how to "relax," it seems, is with the help of technology.
I turn on the most recent Christmas episode of This American Life. But after about five minutes I decide this, too, bores me. I reach out to open my Frank Sinatra playlist on Spotify and inadvertently a stream of water runs down my arm and onto my laptop keyboard. Suddenly, the screen goes static and the mousepad stops working. I yell an expletive.
But I know I have at least 10 minutes left in this bath – do I let it go to waste? There's nothing I can do about my computer at this point, I figure. I am therefore forced to completely unplug.
How often do you look at your body? Like, really, really study it up close. If you're like me, the answer is almost never. I spend the remainder of my "Digital Detox" studying my scars, like the ones I got from falling on the West Side Highway at three in the morning while racing my high school boyfriend across the street. They each have a memory attached to them. I study every birthmark, every blemish, and every ingrown hair. I get to know myself, again. Dammit, Gwyneth! I've been goop'ed!
After the bath, I felt the immediate side effects of a cleanse. My whole body ached, so much that it was hard to lift myself out of the tub. I had waves of nausea and the chills. It's hard to measure though the extent to which I was "detoxed" of any digital toxins, real or imagined.
All I know is that as I type this, the pointer of my mouse is moving and I'm not touching it. My computer is broken, but I'm positive I'll be just fine. Genius Bar here I come.