Inside Gwyneth Paltrow's Exclusive Goop Health Summit with Cameron Diaz, Miranda Kerr and Nicole Richie
At the "In Goop Health" conference over the weekend, we learned about leech facials gone wrong, lessons on "conscious uncoupling" and that Paltrow struggles with "hyper-achievement and perfectionism."
---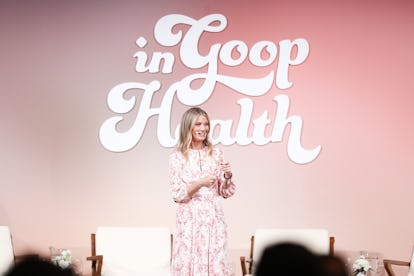 John Salangsang/BFA.com
"What level are you?" I was asked walking into Gwyneth Paltrow's all-day "In Goop Health" summit on Saturday morning in Culver City, California.
Level?
There was a hierarchy, it turned out, inside Paltrow's universe.
Beginning at 9 a.m, about 600 Goop-devotees—Goop-ers? Goopstans?—gathered at a 30,000-square-foot reconstructed warehouse for the first-ever of Paltrow's all-hands on deck conferences, the powwow she plans to continue to host to to dispense wisdom from the mouths of all the gurus, soothsayers and visionaires who make up the world of her lifestyle and wellness phenomenon. Demand is high, it seems.
The starting price is $500; as a reporter, I was bestowed "Amethyst," the mid-level $1,000 ticket, and given a beaded bracelet with a dangling purple tassel. Devotees who paid $500 more received "Clear Quartz," the highest status, which included a private, sit-down lunch with Paltrow and a front row seat to each panel.
Dr. Habib Sadeghi, the man responsible for the infamous "conscious uncoupling" phrase, kicked it off with a presentation on "cosmic flow," using terms foreign to most (i.e. "integrative photosynthesis"), as he shared for the crowd various stories, some involving Paltrow (including a breakdown of one of her blood tests) and at one point referred to himself as "one of the most authentic beings you will ever meet."
Next came a "gut check" with cardiologists Dr. Alejandro Junger and Dr. Steven Gundry, and thyroid expert Dr. Amy Myers, a panel that I soon learned was not metaphorical but was actually about the stomach. "We don't know yet what a perfect gut looks like," the audience was warned. Here, the topic was food, mostly; portion control and what not to eat, which included tomato, potato and eggplant. They're nightshades, which, according to Dr. Gundry's studies on the dangers of lectins—proteins that bind to sugars—are to be avoided. "Embrace feeling hungry," guests were also informed, as they discussed the benefits of fasting.
A live—yes, live—10-minute facelift demonstration by plastic surgeon Dr. Julius Few followed. It was certainly not for the squeamish, and those who stayed gasped as they watched the doctor insert a needle with a clear, biodegradable thread through a volunteer's cheekbone to her jaw and back. He was calm as can be while everyone else winced. The thread dissolved and was replaced by rebuilt collagen, he said, adding that it lasts two to three years, starting at $3,500.
"No, I'm not going to do that," exclaimed Tory Burch when told about the procedure. "But I'll check it out." Her activewear line Tory Sport was holding its first pop-up inside the shopping space.
"I never realized at the time when I started that there was going to be a shift in the way women are dressing," shared the designer, who's been working on the line for seven years. "Women are wanting to be active, a bit more casual. I've always been interested in the concept of high and low, and sport is the perfect opportunity to do that."
The hundreds of guests—mostly white women, between the ages of 30 and 60 years—seemed to be Burch's target customers in their uniform of tees, leggings and sneakers, paired with designer handbags, as they jotted down lessons from the day in their notepads, kept in totes provided by Goop.
During a panel and live therapy session with psychotherapists Dr. Phil Stutz and Barry Michels, Paltrow, as moderator, admitted she struggles with "hyper-achievement and perfectionism", but the good doctors were there to offer "the tools" to ameliorate such concerns.
For guests who found the first half of the day a little too heady, there was a complementary lunch break that featured Bulletproof coffee (the caffeine craze made with butter—in this case from Australian grass-fed cattle), vegan and gluten free mini donuts by Erin McKenna, organic bone broth via Belcampo—as in straight-up broth with add-ons like ginger and turmeric—and ice cream By Chloe, which included kale cookies and cream. There was also the more standard: Sweetgreen salads and Sweetfin Poké bowls, as well as fruit smoothies and matcha lattes.
Playful activities included non-toxic manicures by Tenoverten and face massages by FaceLove, while an outdoor space provided IV and oxygen bars—of course—an aura photo dome, a display of vape marijuana pens by Hmbldt and crystal readings with Colleen McCann, "the resident shaman."
"I was getting a sandwich in a bodega in the middle of the night, and I heard a voice say, 'A man's going to come into the store and be 32 cents short, and there's gonna be a fight about bananas,'" McCann told me when I inquired about her story. "I turned around and nobody was there, but a few seconds later, the whole thing happened right in front of me."
The day continued with a panel on motherhood, one on sexuality with authors Esther Perel, Nicole Daedone and Girls' Jenni Konner (a funny and captivating conversation that filled the room), and lastly, after a short Q&A with Tracy Anderson, came the most anticipated moment of the day: a conversation (on ambition and personal relationships) between Paltrow and a few of her famous friends, Burch, Cameron Diaz (who took a conscious three-year break from Hollywood to make herself whole, she said), Nicole Richie and Miranda Kerr, who brought the event's biggest laugh when she shared a story about, well, a leech.
Kerr, as it happened, once received a leech facial—as one does—and had kept the worms contained in her house (the facialist was going to kill them, so she brought them home, she said) but somehow one got away.
"There was no hole or anything," she continued. "It was such a mystery, and I was looking everywhere around the house, and then I look down, and I see this trail…It had gone down the bench…still alive and kicking. And that's when I decided to put them in the koi pond."
The room roared with laughter.
"Wow," replied a wide-eyed Paltrow. "I thought I was crazy."
She was joking, Paltrow was quick to add, noting that it's an ancient practice of thousands of years, though she had yet to try it herself.
As the day came to a close, $1,000 and up ticket holders were invited to join the actress for collagen martini cocktails while others picked up their gift bags, filled with $200 worth of products (it went up to $500).
Next, they'll hold a summit in New York in January and another next year in L.A., shared Paltrow.
"The feeling of the day has been really cool, seeing everybody being together and so many women who are likeminded and really curious and really appreciative of the content," she said. "It's a sisterhood for sure."
Gwyneth Paltrow's Timeless Elegance on the Red Carpet
Gwyneth Paltrow looked elegant in a long ivory-colored satin slip dress and matching shawl timeless style at the premiere of 'Jefferson in Paris' in 1995.

WireImage
The actress attended the 68th Annual Academy Awards in 1996 with then-boyfriend Brad Pitt wearing another classic look: a cream-colored, sequined spaghetti strap gown.

WireImage
For the premiere of 'Shakespeare in Love' in 1998, Paltrow was both sweet and edgy in a sheer, beaded lilac-colored dress.

Getty Images
All eyes were on the actress when she arrived to the 1999 Academy Awards in a pink Ralph Lauren ball gown with a streamlined bodice, princess ball skirt and diamond chocker. That night, she won the Oscar for Best Actress for her role in 'Shakespeare in Love'.

WireImage
Paltrow wore a gothic-glam look by Alexander McQueen at the 2002 Vanity Fair Oscars Party,

WireImage
Showing off her amazing post-baby body at the 'Sky Captain & The World Of Tomorrow' UK premiere, Paltrow wore a strapless mid-length, champagne-colored dress with a waist cinching grey belt.

Getty Images
At the 2005 Academy Awards, Gwyneth Paltrow wore a blush-colored silk corset gown by Stella McCartney, which accentuated her flawless, fair skin.

Patrick McMullan via Getty Images
The actress looked divine in this dusty rose-colored Zac Posen gown at the 2007 Oscars. The pleated sheer and silk neckline and mermaid train detailing of the gown fit her like a glove, and a pop of red lipstick was the perfect accent.

Patrick McMullan via Getty Images
Paltrow showed off her long legs in black lace Balmain mini dress at the UK premiere of "Iron Man."

UK Press via Getty Images
At the Country Music Awards in 2010, Paltrow stood out in a beaded, ombre Atelier Versace gown with a high slit that accentuated her phenomenal figure.

FilmMagic
For the national premiere of "Country Strong," Paltrow wore a black Chado Ralph Rucci dress with a playful hemline that showed off her Lanvin heels.

FilmMagic
At the 84th Annual Academy Awards, Paltrow wore a white, one-shoulder Tom Ford column dress with matching cape, with a slicked-back ponytail and side-swept bang.

Getty Images
At the 49th Annual Goldene Kamera Awards, the actress wore a figure-hugging, glistening, fuchsia-colored Prada gown.

WireImage
The actress attended a cocktail party hosted by Michael Kors in celebration of his Regent Street flagship store opening in London in a semi casual look by the designer.

Dave Benett/Getty Images for Michael Kors
Watch: "Women's Rights Are Human Rights": 62 Fashion Insiders Speak Out in a Powerful Video for International Women's Day