Gwyneth Paltrow: "I've F—ed Up So Many Relationships"
The actress talks love with Nasty Gal founder Sophia Amoruso.
---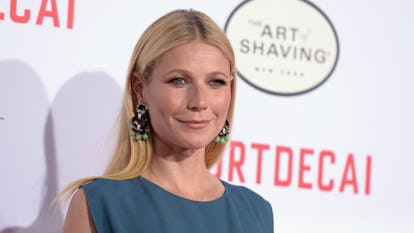 Jason Kempin/Getty Images
Gwyneth Paltrow has her fair share experience dating. She's been linked to Brad Pitt, Ben Affleck, and Luke Wilson in the past. That, however, doesn't mean she's actually good at dating, as the lifestyle mogul and actress will admit herself. In a recent interview with Nasty Gal founder Sophia Amoruso on her Girlboss podcast, Paltrow reflected on her past relationships, noting that she's "f—ed up" plenty of them.
"I've f—ed up so many relationships… I'm actually a pretty good friend—and a good sister and daughter and mother. But I'm at my potentially most vulnerable and effed up in the romantic slice of the pie," Paltrow shared. "It's taken me a lot of work to get to the place where I have a good romantic relationship."
That said, Paltrow is currently in a relationship with Glee and American Horror Story co-creator Brad Falchuk, and has been for some time now.
In the interview, Paltrow discussed the growth of her company Goop. But she said that when it comes down to it, she ultimately cares more about how her relationships are doing than how her business is. "Success to me is relationships that function really well—where there is a beautiful feedback loop between people. I mean, I think without relationships of quality, you are not a successful person," she said. "[Relationships] make life feel full and rich and happy. The quality of your relationships dictate so much of how your life feels. So for me, that's the number one."
Healthy relationships, unlike jasmine tea sensitive skin deodorant sticks and sex dust, aren't for sale on Goop's website. Like Gwyneth, you're going to have to work for one. Though, maybe the sex dust could help.
Related: Inside Gwyneth Paltrow's Exclusive Goop Health Summit with Cameron Diaz, Miranda Kerr and Nicole Richie
Brad Pitt's controversial dating history is a lesson in love: