Five Minutes with Hailee Steinfeld
The "Pitch Perfect 2" actress/musician shares her earliest makeup memory and her go-to products.
---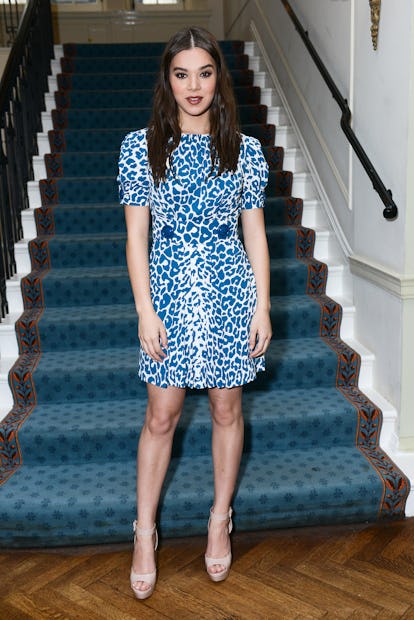 What's in your purse? If my bag is big enough, I'll carry my makeup bag, which has a lot of unnecessary things in it—I use about half of what's in there. If the bag is smaller, I tend to take Estee Lauder pressed powder, and a nude lip balm.
What is your first beauty memory? I had an audition for a movie role when I was 11. The character was goth, so I asked my mom to help goth my face up. She did a fantastic job, but I didn't realize that Goth meant all this black makeup. When she was done, I looked in the mirror and it was like my worst nightmare.
So, I guess that's also the answer to what's your worst beauty memory? Yes!
What's your 5-minute routine? Just lip balm and mascara. I appreciate how mascara makes an unbelievable difference. I'll have days or nights when I love to put makeup on, but then I'll have days when I'm like, I look socially acceptable to go all natural.
What are you currently obsessed with? Generally speaking, I'm obsessed with The Weeknd's album. I'm such a fan of Abel Tesfaye and he's been very supportive of me and my music. I just really admire his talent and his writing and everything he's produced and written sounds so good. Ever since I started making music myself, I have a new appreciation for his work.