Hailee Steinfeld May Star in Idol, Netflix's Gen Z Retelling of All About Eve
The actor is leaning further into her pop star persona.
---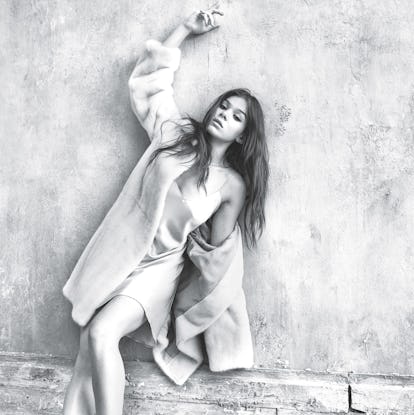 Photographs by Mario Sorrenti, Styled by George Cortina; Hair by Akki at Art Partner; Makeup by Diane Kendal for Marc Jacobs Beauty At Julian Watson Agency; Manicures by Honey for Marc Jacobs Beauty at Exposure NY.
Hailee Steinfeld knows how to give her fans exactly what they want from her as an actor turned pop starlet. In fact, the 21-year-old actress has decided to lean even further into the pop star persona, as she's reportedly set to star in Idol, a new music drama coming to Netflix.
In Idol, a young assistant becomes a pop star's nightmare when she tries to take over the pop star's identity. The plot could be likened to a Generation Z retelling of All About Eve, the classic 1950 film starring Bette Davis as Margo Channing, an aging Broadway icon, and Anne Baxter as the titular character, Eve Baxter, a young fan who pushes her way into Margo's life and career (though its pop star plot will undoubtedly draw comparisons to A Star Is Born as well).
According to Variety, Netflix has yet to comment on the casting decision, but reportedly Steinfeld would play the assistant and not the established star. It's also been reported that the performer will coproduce the film, along with her mother, Cheri Steinfeld, if the deal between the Steinfelds and Netflix is closed.
The Oscar– and Golden Globe–nominated star has come a long way since her True Grit days, and thanks to her performance in the Pitch Perfect franchise, as well as her double-platinum singles ("Starving," "Most Girls," and "Love Myself") and well-received 2015 EP, Haiz, it is clear that Steinfeld already has the chops to handle whichever songs end up being thrown her way for Idol. Per reports from Deadline, the production company coproducing the movie, Federal Films, is actually a subsection of Republic Records, the label to which Steinfeld is signed as a singer, so the motion picture soundtrack will likely be released under Republic Records, with Steinfeld working closely with the label on the songs to be recorded for the film.
In an age when audiences cannot seem to get enough of pop-star-themed movie musicals (just look to the success of A Star Is Born, or the release of Elisabeth Moss's Her Smell and Natalie Portman's Vox Lux), it was only a matter of time before Steinfeld snagged the lead in a movie like Idol.
Related: After Pitch Perfect 3, Hailee Steinfeld Contemplates Heading to Broadway