Hailey Clauson and Julian Herrera Together, in Strange and Sexy Photos by the Artist Torbjørn Rødland
Torbjørn Rødland creates photographs that are as titillating as they are unsettling. In this exclusive portfolio for W, the artist references commercial advertisements, religious imagery, and intense sensory experiences.
---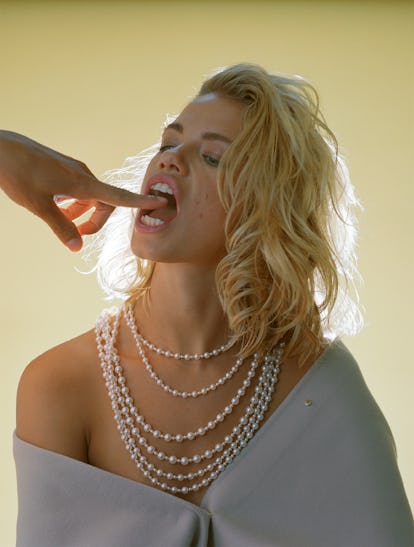 Photograph by Torbjørn Rødland.
The artist Torbjørn Rødland has a thing for odd—sometimes aggressively, mesmerizingly odd—couples. In one of his most unsettling photographs, Midlife Dilemma (2015), a muscly, shirtless boy with a cherubic face coolly pins a suited man who could be in his 60s against the wall. In others, older women assume menacing positions with younger women who are clearly not their daughters. And sometimes the couplings are interspecies: An octopus tentacle extends from a woman's sleeve and interlaces with her fingers. "I've worked a lot with these asymmetrical couples, where the relationship between the characters is open-ended," says the 48-year-old artist, who has lived in the Los Angeles area since 2010. "I like the unity of opposites. It's a way to hopefully create more symbolic potential."
Symbolism is a familiar sort of uneasy territory for Rødland, who grew up Protestant in the city of Stavanger, Norway, and loved Bible study for the wild imagery. "I make fantasy art, religious art, but it can't all be flowers," he says. "There has to be slime and rotting teeth." He has described his work as "one-third Nordic melancholia, one-third Japanese cuteness, and one-third American vulgarity." Now, his seamless blending of the profane and sacred, or everyday and unworldly, is attracting-repulsing the art world in just the right way.
He's having such a strong run of shows, from his gallery debut at David Kordansky, in L.A., this past summer, to a solo booth with the Norwegian gallery Standard (Oslo) at Art Basel Miami Beach in December, that he says his goal is to simply slow down. There have been two high-profile touring museum shows in Europe: Also this summer, the Fondazione Prada in Milan hosted a nearly two-decade survey, "The Touch That Made You," which curators Hans Ulrich Obrist and Amira Gad originally organized for the Serpentine Galleries, in London. And a more focused exhibition of recent work, "Fifth Honeymoon," which started at Bergen Kunsthall, in Norway, will be traveling to ­Bonniers Konsthall, in Stockholm, and to Helsinki's Museum of Contemporary Art Kiasma, next year.
In the following pages, Rødland uses jewelry and fashion accessories to express his interest in symbolic ­couples and the visual-visceral power of hugs. Witness, for example, the intrusion of body parts, like a man's finger in a woman's mouth. "I only take on projects when they fit what I'm already thinking about," he says. In the ­catalog essay for "Fifth Honeymoon," the critic Sianne Ngai notices how many times a stranger's hand will enter one of ­Rødland's picture frames, say, holding a threatening pair of scissors or dipping a finger into a drink. (Sometimes, the intruder is a foot instead.) She sees it as part of a deliberate ­gimmicky-ness in his photographic work, an example and also emblem of his use of the attention-getting clichés of advertising and marketing. That foot or hand is often submerged in some sort of gelatinous gunk: Thick, viscous, mucous-like liquid is a recurring element in Rødland's work. He calls it a way to resist the "dryness" of conceptual photography "and move into something more sensual, tactile, erotic, subconscious, and chaotic," noting that the images of liquidity provide a link to the wet processes of darkroom photography, which he tends to favor over digital. You could also call it surrealism of the messy, highly textured sort, more Max Ernst or Meret Oppenheim than Man Ray or Magritte.
Still, there is nothing messy about his technique as a photographer, thanks to his exacting compositions and carefully controlled lighting. A master of atmospheric backlighting, he creates a halo-like effect around faces and makes his subjects' bodies glow with the visual ­equivalent of intense sexuality, burning religiosity, or both. Here, Rødland also uses light to emphasize and celebrate, free of critical distance or irony, the dazzling blond hair of his California models. As the poet William Blake, who was claimed by the surrealists as a precursor, once wrote: ­"Exuberance is beauty."
See Torbjørn Rødland's Intimate Photos of Hailey Clauson and Julian Herrera
Chanel Fine Jewelry necklace; Loro Piana cape.

Photograph by Torbjørn Rødland.
Calvin Klein 205W39NYC top.

Photograph by Torbjørn Rødland.
Balenciaga boots; Calvin Klein 205W39NYC top; Zimmerli of Switzerland boxer briefs.

Photograph by Torbjørn Rødland.
Givenchy earrings; Fabergé ring; Chanel top and skirt. American Apparel top.

Photograph by Torbjørn Rødland.
Calvin Klein 205W39NYC hat; Falke socks; Gucci shoes; Balenciaga shirt.
Breitling watch; Balenciaga shirt and jeans. Chanel Fine Jewelry bracelet; Chanel bag; Dior gloves.

Photograph by Torbjørn Rødland.
Calvin Klein 205W39NYC top; Fabergé ring.

Photograph by Torbjørn Rødland.