Haim Is Really Excited to Bring "Girl Power" to the Brit Awards
The sisters talked Beyonce, the Brit Awards, and their world tour at a dinner for Erdem's new collaboration with NARS during London Fashion Week.
---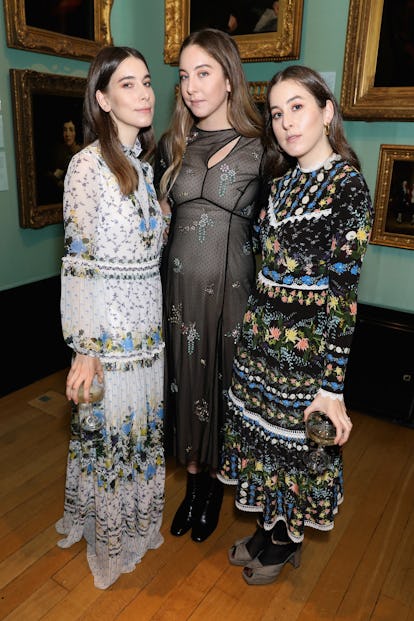 Darren Gerrish
The Haim sisters are doing great. Just ask them.
"We're doing great," Este, Danielle, and Alana Haim exclaimed in unison as they arrived to their final event of London Fashion Week, a dinner for Erdem and NARS in celebration of the designer's fall 2018 show—which the band had also attended—and the unveiling of the Erdem for NARS Strange Flowers makeup collection. The sisters certainly looked the part, dressed in coordinating floral Erdem gowns, making for a striking pack as they took in the grandness of London's National Portrait Gallery, where the dinner was held.
"This venue is insane," said Alana, the youngest of the sisters. "I'm mind-blown that they trust this many people to drink around the art. I need a bib and some railings to prevent me from messing anything up. I am the clumsiest person, I should not be allowed here."
The sisters had been in London for almost a week, and had gotten around to a number of shows by then. "It's no secret that we love fashion," Este said.
"[London designers] are all about taking risks, which I really love," added Danielle. "I'll never forget the first time I came here without my sisters, I went vintage shopping and Topshop wasn't available in the U.S. I was 19 and I got on the tube myself and was like, 'I'm going to Topshop.'"
The sisters, who are originally from California, think of London as the place that first helped establish their bonafides as a band, and they were thrilled to be back. Plus, there were apparently superior bagels to be had—or rather, as they're known here, "beigels." "Beigel Bake in Brick Lane," said Este when asked about her favorite spot, in general, in the city. "They are the best bagels. Honestly, they rival New York bagels.They go toe-to-toe. Go to Beigel Bake. They are thick, delicious bagels. And they have really good cream cheese."
The menu at the Erdem x NARS dinner was a bit more refined—the main was a miso-glazed cod—but the sisters seemed to take to it as heartedly as they would beigels, animatedly chatting with designer Erdem Moralioglu throughout. Perhaps they were plotting their uniforms for Haim's upcoming world tour? "Well, we have so many friends now! We're so lucky," Alana said diplomatically.
It all sounded a bit like a predicament a certain princess-to-be might also be facing (related: Erdem is widely speculated to be one of the designers in contention to design Meghan Markle's wedding dress). "I actually hope I will be here for the wedding so I can just sit in a pub and watch," Alana said at mention of the royal wedding. "I just want to be at a pub on that day. It's going to be the best day to be in London. I don't know where we're going to be, but I hope it's here. I need a pub and a TV and I will chill."
They still had a few days left on this trip, at least, with the Brit Awards, where they were nominated for Best International Group—the only female nominees in the category. ("Well, there is a female in Arcade Fire," Alana offered.) "We're bringing the girl power," Danielle said.
"The last time we went to the Brits, we had the best time. I danced the whole time," Alana recalled. "Beyonce performed, and it was right when 'XO' came out." Este added, "It was a lot." To be fair, though, the Brit Awards serve alcohol, unlike their American counterpart, the Grammy Awards. That is, of course, unless you're Haim. "We found alcohol when we went to the Grammys, so we had a great time," said Alana. "If you rewatch the Grammys from that year, there's a video of us with Solo cups in the audience."
Related: Grammy Awards 2018: A Minute-By-Minute Report of Everything You Didn't See On TV
Haim's 4 Rules for Getting Ready for a Party