Good Hair Days
Step aside, skin. Some of today's most cutting-edge science is targeted at keeping hair healthy.
---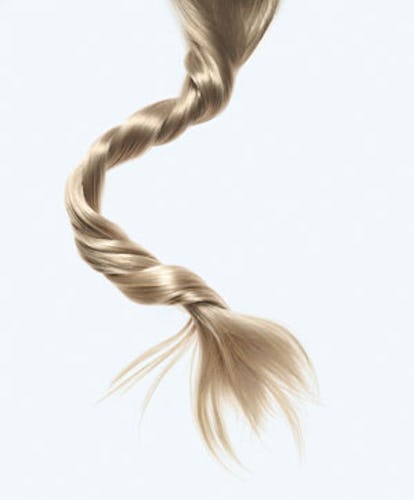 Dull, damaged, frizzy or fine—everyone's got a hair issue. Fortunately there are new, innovative ingredients, treatments and products to help whatever ails your locks.
FRIZZ Fighting frizzy hair and fighting cancer shouldn't even be in the same sentence, but one scientist at the Massachusetts Institute of Technology actually has a hand in both. Engineering professor Robert Langer created a polymer-based cancer treatment—it helped earn him the esteemed Millennium Technology Prize in 2008—and somewhere along the way he found that a molecule he was working with, PolyfluoroEster, could tame frizz. "Preventing frizz is about resisting water vapor, i.e., humidity," explains Langer, who's a founding partner of Living Proof, the company that created No Frizz, a new line of PolyfluoroEster-infused creams and sprays (debuting in February). In spite of No Frizz's unorthodox instructions to saturate hair with the product, the results are remarkably smooth tresses with a surprisingly light feel. In other news, salon owner John Masters decided to tackle frizz the organic way by using sea kelp and marine phytoplankton in his new John Masters Organics Shine On leave-in treatment, which launches in January at Whole Foods. Meanwhile, Rene Furterer Myrrhea Anti-Frizz Silkening Conditioner relies on myrrh extract and avocado oil to control frizz and moisturize the hair shaft.
SKINNY STRANDS Hair is classified as fine when there's not enough of its inner foundation, the cortex, below its outer layer, the cuticle. "The less cortex hair has, the more inflexible it is," says Thia Spearing, director of technical development at hair-care brands Matrix and Logics. "The more rigid it is, the more vulnerable it is to damage from actions like brushing." It's impossible to alter a hair's cortex-to-cuticle ratio—to turn fine hair into thicker hair—but keeping the cuticle in top form while creating volume is essential. Logics Volume Wrap, an in-salon treatment, infuses the cuticle with ceramides to strengthen and repair its frayed edges, while starch in the formula makes hair feel more dense, which doesn't sound far-fetched considering what cornstarch does to gravy. Kim Vo uses peptides—the same weapon in most lash-thickening conditioners—in his Volumizing Masque to strengthen hair and give it more fullness. Other new fine hair–targeted products are employing minerals: Calcium and silica in L'Oréal Professional Volume Expand Masque, an at-home product, separate hair fibers to create an overall fullness; magnesium pairs with seawater to tone and amplify hair in Shu Uemura's new Art of Hair Muroto Volume line.
BREAKAGE When hair breaks easily or lacks luster, the fault often lies below the surface. "People don't really think about their scalps," says Carla Gentile, owner of Steam Salon in Los Angeles. "But if you look at your hair as a root, it grows out of your scalp, so that needs to be healthy." Gentile has been focusing on scalps for nine years since opening Steam, where clients select essential oils for a 45-minute therapeutic scalp massage. A year ago she enlisted a chemist to reformulate the oils she'd been whipping up herself; he added antioxidants (like moringa, pomegranate and acai) aimed at healing hair follicles and preventing the scalp from becoming too oily or too dry. Each Steam Scalp Oil can be purchased for home use. Once your scalp is healthy, Fekkai Ageless Crème Luxe Hair Treatment will target hair's inner cortex by penetrating it with orchid root extract, known for its long-lasting ability to retain moisture.
PARCHED TRESSES When hair looks seriously damaged, it's often just suffering from a little thirst. Amazon Beauty uses rahua, a rare nut from the Ecuadoran rainforest, in both its elixir and leave-in treatment, which expertly seals the cuticle without weighing it down and gives colored hair a boost of brightness. Eliut Rivera, owner of Salon Eliut Rivera in New York, taps ingredients—including avocado, aloe vera and olive oil—from his native Puerto Rico for his superb Puro Hydrating Mask. Curly girls are especially vulnerable to dryness: "The whole problem with curly hair is that the outer protective layer doesn't stay closed," says Ouidad, the one-name curl expert of the eponymous salon and hair-care company. "So you're susceptible to losing the hydrogen bond of moisture, which makes hair frizzier." Her new Moisture Lock Leave-in Conditioner contains arnica (already popular in skincare) to increase blood circulation in the scalp, prickly pear cactus to seal in moisture and protective antioxidants such as green tea and vitamin B5.
COLOR CONCERNS Color-treated hair is prone to fading, brassiness and pesky roots. Melissa Bridgers, color director at Salon OC61 in New York, takes precautions by applying Barex's ColourLife Masque to her clients' just-colored hair. "Color can change the porosity of hair," says Bridgers. "And the lighter the hair, the more porous it is, so the masque helps seal in the color and seal down its outer cuticle." Neil Weisberg and Amanda George, owners of the Neil George Salon in Beverly Hills, recently debuted an ultrarich Intense Repair Mask for color-treated hair, which uses Indian gooseberry to impart strength while also protecting color from fading. Pale color-treated hair—blond, white and gray—is at risk of yellowing; fortunately Phytargent Whitening Shampoo neutralizes brass with cornflower extract, walnut leaf, rhatay root and broom. And Yarok Sensory Treatment for Hair and Scalp comes in seven essential oil formulas, three designed for specific hair colors; creator Mordechai Alvow is particularly proud of Serum 3, Possessed Red. "Red is the thickest and curliest hair," says Alvow, who relies on beta carotene–rich carrot oil to preserve the red pigment and help calm the curl. Finally, for those of us who never seem to make that next coloring appointment until the roots start to show, the Oscar Blandi Pronto Colore Pen is a cute click-on device with a lip-gloss-like brush that makes precise, temporary coloring easy.
OVERPROCESSED HAIR In this age of so many mane-altering practices, even the healthiest hair eventually looks a bit beaten up. Valery Joseph sees his share of damage at his two eponymous New York salons; he hopes that the popularity of Japanese and Brazilian straightening treatments continue to wane. "The second or third time someone gets one, it's really a disaster," he says. "It's just kind of killing the hair." But until his clients see the light, he'll be directing them to his new favorite antidote, Paul Brown Hawaii Hapuna Keratin Straightening Treatment, which, in spite of its name, he employs more as a healing aid than a straightener. "It coats hair with keratin, which is what hair's made of, and when we seal the coating with an iron, hair keeps some of its shape so it isn't stick straight," says Joseph, who raves about the product's ability to render hair shiny and shielded from sun, chlorine and pollution for about three months. Los Angeles–based hair product creator Philip B, meanwhile, is excited about his new Russian Amber Imperial Shampoo. Its $100-a-bottle price tag stems mostly from an amino acid complex his chemist introduced him to. "It's pretty expensive, but it turns even the most damaged hair into virgin hair," promises B, who dropped the rest of his last name years ago. The labs at French company Leonor Greyl are tapping plant life for its new Masque Quintessence: Butter made from Amazon cupuaçu fruit moisturizes, and oil from Namibian manketti fruit restores texture. Oils (olive and castor) also purport to work wonders on severely damaged strands in Philip Kingsley's new Elasticizer Extreme.