Halle Bailey Had the Perfect, Simple Response For People Upset By Her Little Mermaid Casting
Just like Ariel, she's swimming far away from this nonsense.
---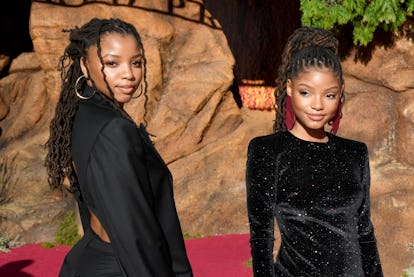 Kevin Winter
Halle Bailey, AKA Ariel in Disney's upcoming live-action remake of The Little Mermaid, wants to be were the people are, not where the trolls are. When the actress (of Grown-ish) and singer (one half of Chloe X Halle) was first announced as the new face of the famous mermaid, a small backlash ensued online. The hashtag #NotMyAriel was used by Little Mermaid fans who thought Bailey was not the right choice to play the iconic redhead. (For what it's worth, the most vocal #NotMyAriel tweeters turned out to be fake.)
Like a true Disney princess, though, Bailey isn't paying attention to the hate, instead focusing on the amazing opportunity of being involved in the project. At the Power of Young Hollywood event hosted by Variety, she told the outlet, ""I feel like I'm dreaming…And I'm just grateful. I don't pay attention to the negativity; I just feel like this role is something bigger than me. And it's going to be beautiful. I'm just so excited to be a part of it," per Elle.
This isn't the first time she's been given the chance of a lifetime. When she and her older sister Chloe were both teenagers, they were signed to Beyoncé's record label and appeared in her visual album Lemonade. Now that Bey has turned her part in Disney's The Lion King into an album of its own, we can only imagine that Bailey will have her own Mermaid-adjacent projects.
As for casting reactions that actually matter, Chloe Bailey revealed at the same event that she was overjoyed for her sister when the family got the news. She told People, "Heck yeah! I was more than proud. I was screaming and crying. [Halle] worked so hard." Good to see she's more supportive than Ariel's slightly superficial sisters.
Related: Halle Bailey, of Chloe x Halle, Will Play Ariel in the Little Mermaid Reboot
A Celebration of Charlize Theron's Ever-Changing Hairstyles
Charlize Theron at the "2 Days in the Valley" film premiere on September 20, 1996 at Mann Village Theatre in Westwood, California. Photo courtesy of Getty Images.

Getty Images
Charlize Theron arrives at the "Mad City" premiere in Los Angeles on 1997. Photo courtesy of Getty Images.

Getty Images
Charlize Theron at the 36th Annual New York Film Festival on September 25, 1998 at Avery Fisher Hall, Lincoln Center. Photo courtesy of Getty Images.

Getty Images
Charlize Theron arriving at the Sixth Annual Screen Actors Guild Awards on March 12, 2000 at Shrine Auditorium in Los Angeles, California. Photo courtesy of Getty Images.

Getty Images
Charlize Theron at the premiere of "Sweet November" at Bruin Theatre in Westwood, California on 2001. Photo courtesy of Getty Images.

Getty Images
Charlize Theron at the world premiere of "Monster" at the closing night of AFI Fest 2003 at the ArcLight Cinerama Dome in Hollywood, California, 2003. Photo courtesy of Getty Images.

Getty Images
Charlize Theron arrives at the 76th Annual Academy Awards at Kodak Theatre in Hollywood, California, 2004. Photo courtesy of Getty Images.

Getty Images
Charlize Theron arrives at the 62nd Annual Golden Globe Awards at the Beverly Hilton Hotel in Beverly Hills, 2005. Photo courtesy of Getty Images.

Getty Images
Charlize Theron at the 17th Annual GLAAD Media Awards at Kodak Theatre in Hollywood, California, 2006. Photo courtesy of Getty Images.

Getty Images
Charlize Theron during the DKNY Jeans Presents East of Havana film premiere at the IFC Center in New York City, 2007.

Getty Images
Charlize Theron attends the 1st Hollywood Domino Tournament hosted by De Grisogono at the Beverly Hills Hotel on February 21, 2008 in Beverly Hills, California. Photo courtesy of Getty Images.

Getty Images
Charlize Theron attends the launch of the new designers floor at Saks Fifth Avenue on September 9, 2009 in New York City. Photo courtesy of Getty Images.

Getty Images
Charlize Theron arrives at the Vanity Fair Oscar party hosted by Graydon Carter held at Sunset Tower on February 27, 2011 in West Hollywood, California. Photo courtesy of Getty Images.

Getty Images
Charlize Theron arrives at the 69th Annual Golden Globe Awards held at the Beverly Hilton Hotel on January 15, 2012. Photo courtesy of Getty Images.

Getty Images
Charlize Theron attends the World Premiere of "Snow White And The Huntsman" at Empire Leicester Square on May 14, 2012 in London, England. Photo courtesy of Getty Images.

Getty Images
Charlize Theron arrives at the Wallis Annenberg Center For The Performing Arts Inaugural Gala on October 17, 2013 in Beverly Hills, California. Photo courtesy of Getty Images.

Getty Images
Charlize Theron arrives at the "A Million Ways To Die In The West" Los Angeles premiere at Regency Village Theatre on May 15, 2014 in Westwood, California. Photo courtesy of Getty Images.

Getty Images
Charlize Theron attends the "Mad Max: Fury Road" premiere during the 68th annual Cannes Film Festival on May 14, 2015 in Cannes, France. Photo courtesy of Getty Images.

Getty Images
Charlize Theron arrives for the screening of the film "The Last Face" at the 69th annual Cannes Film Festival on May 20, 2016. Photo courtesy of Getty Images.

Getty Images
Charlize Theron attends "The Last Face" photocall during the 69th annual Cannes Film Festival at the Palais des Festivals on May 20, 2016 in Cannes, France. Photo courtesy of Getty Images.

Getty Images
Charlize Theron attends Focus Features luncheon and studio program celebrating 15 years during CinemaCon 2017 at Caesars Palace on March 29, 2017 in Las Vegas, Nevada. Photo courtesy of Getty Images.

Getty Images
Charlize Theron attends the Chopard Trophy photocall at Hotel Martinez on May 22, 2017. Photo courtesy of Getty Images.

Getty Images
Charlize Theron attends the anniversary event during the 70th annual Cannes Film Festival at Palais des Festivals on May 23, 2017 in Cannes, France. Photo courtesy of Getty Images.

Getty Images
Actress Charlize Theron arrives for the Premiere Of Amazon Studios And STX Films' "Gringo" held at Regal LA Live Stadium 14 on March 6, 2018 in Los Angeles, California. Photo courtesy of Getty Images.

Getty Images
Charlize Theron attends the 25th Annual ELLE Women In Hollywood Celebration at Four Seasons Hotel Los Angeles at Beverly Hills on October 15, 2018 in Los Angeles, California. Photo courtesy of Getty Images.

Getty Images
Charlize Theron attends the 76th Annual Golden Globe Awards held at The Beverly Hilton Hotel on January 06, 2019 in Beverly Hills, California. Photo courtesy of Getty Images.

Getty Images
Charlize Theron attends the "Long Shot" screening at the Paramount Theatre during the 2019 SXSW Conference And Festival on March 9, 2019 in Austin, Texas. Photo courtesy of Getty Images.

Getty Images
Charlize Theron attends the premiere of "Long Shot" at AMC Lincoln Square Theater on April 30, 2019 in New York City. Photo courtesy of Getty Images.

Getty Images
Charlize Theron arrives at the 91st Annual Academy Awards at Hollywood and Highland on February 24, 2019 in Hollywood, California. Photo courtesy of Getty Images.

Getty Images
Charlize Theron attends the "Long Shot" special screening at Curzon Cinema Mayfair on April 25, 2019 in London, England. Photo courtesy of Getty Images.

Getty Images