Halsey Finally Confirms Her Little Role in A Star Is Born
She finally confirmed her role in the film.
---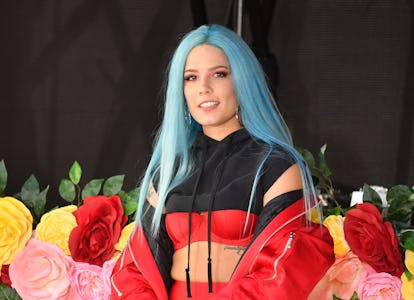 Slaven Vlasic/Getty Images
With each passing day, there's a new reason to be excited for A Star Is Born. Today, that reason is Halsey. The pop artist finally confirmed her involvement in the upcoming remake helmed by Bradley Cooper and starring Lady Gaga, and it couldn't be closer to her real-life self. That's because the 23-year-old will be playing none other than Halsey.
"I guess now is a good time to finally tell you guys that I have a little cameo in A Star Is Born!," Halsey tweeted. "Thank you so so much to Gaga and Bradley for including me. It was an honor to watch both of your talent and dedication on set. ❤️ An all time life highlight for me for sure."
She also opened up about the role, for which she didn't have to work too hard to get into character. "I play myself for a very small moment! Which is insane because it means Gaga and Bradley saw me worthy of representing a piece of the current state of music in this film forever," she tweeted. "They could have picked any artist. It was so humbling and unreal."
No word on whether Halsey was subjected to the same face-wiping mental preparation that Gaga was. When Gaga and Cooper did their first screen test at Gaga's Malibu home, Cooper nowfamously took a wet wipe to her face to remove Gaga's makeup so she would be "completely open. No artifice." Gaga's natural beauty, which is on full display in the film, is beside the point, though, as she recently said in a recent profile by the Los Angeles Times. "I could be in a million movies and put out a million songs and everyone could say, 'She was so beautiful,' but that's not really what I want," she said. "I want them to say, 'I saw that movie and I cried my eyes out and I learned something about myself.'"
Gaga also learned a lot about acting, of course, as Cooper confirmed. "Her learning curve was insane, just from the first day to the second day," Cooper said his his costar. "Everybody already knows that she's got a God-given talent as a singer, and she was able to utilize that plutonium to act. If this is something she wants to pursue, I will just have been lucky to have been part of her story as an actress." Soon, Cooper may be able to say the same of Halsey.
Related: Everything That Happened During Lady Gaga's Whirlwind Venice Weekend