Everything That Happened During Lady Gaga's Whirlwind Venice Weekend
From a 10-minute technical blackout to an 8-minute standing ovation, plus a lot of really great dresses.
---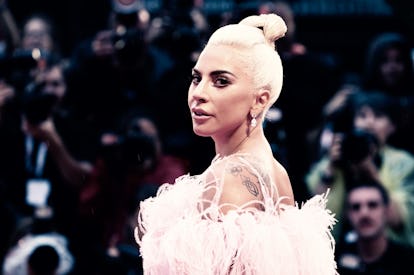 Andreas Rentz
While Crazy Rich Asians dominated the American box office for the third (!) weekend in a row, the eyes and ears of the film world were on Italy, where the Venice Film Festival was abuzz with praise for Bradley Cooper's remake of the Hollywood classic A Star Is Born.
Of course that means that Cooper's co-star Lady Gaga had quite the weekend. While there were no meat dresses or other distracting scandals, she did manage to bring the drama. Here's everything she managed to pack into the trip:
First, she arrived to the festival in a boat, wearing a Jonathan Simkhai bustier dress. This makes sense because it's Venice and there are canals, but also, Gaga never needs an excuse to be on a boat.
Then she attended a photo call for the film, again arriving by boat. This time she wore a a white dress by Azzedine Alaïa that showed off her tattoos, with black pumps and a black box bag.
For the premiere of A Star Is Born, she crushed the red carpet in a feathered Valentino Couture dress that only a pop star like herself could pull off.
Oh, and did we mention that it started raining, and that it fazed her not at all?
The rain did, however, lead to lightning, which struck the festival area and caused a power outage. The premiere of Cooper's directorial debut came to a stop for a full 10 minutes before the projector was up and running again, per Deadline.
Despite the technical difficulties, the film wowed critics and viewers alike. The audience gave it an eight-minute standing ovation, and there's been serious critical praise.
At a press conference for the film, Gaga and Cooper had nothing but super-nice things to say about working together, giving fans plenty of hope that Gaga will continue to act, and Cooper to direct.
Gaga finally left on Sunday, likely headed to Vegas to begin rehearsing for her residency there. She departed Venice hand in hand with her boyfriend, Christian Carino, by water taxi, wearing all white.
But look a little closer and you'll notice that the story of this weekend was merely a prologue, an introduction, an origin story. This weekend, an Oscar contender was born. Her name is Lady Gaga, and she is a movie star.
Related: Lady Gaga and Bradley Cooper Have So Much In Common, Are So Nice To Each Other
Venice Film Festival 2018: See Emma Stone, Lady Gaga, Dakota Johnson and More Celebrity Fashion on the Red Carpet
Dakota Fanning arrives for the Jaeger-LeCoultre Gala Dinner during the 75th Venice International Film Festival at Arsenale on September 4, 2018 in Venice, Italy. Photo courtesy of Getty Images.

Daniele Venturelli
Cate Blanchett walks the red carpet ahead of the 'Suspiria' screening during the 75th Venice Film Festival at Sala Grande on September 1, 2018 in Venice, Italy. Photo courtesy of Getty Images.

Daniele Venturelli
Ryan Gosling walks the red carpet ahead of the opening ceremony and the 'First Man' screening during the 75th Venice Film Festival at Sala Grande on August 29, 2018 in Venice, Italy. Photo courtesy of Getty Images.

Daniele Venturelli
Tilda Swinton and Dakota Johnson at the 75th Venice Film Festival on September 1, 2018 in Venice, Italy. Photo courtesy of Getty Images.

Andreas Rentz
Claire Foy walks the red carpet ahead of the opening ceremony and the 'First Man' screening during the 75th Venice Film Festival at Sala Grande on August 29, 2018 in Venice, Italy. Photo courtesy of Getty Images.

Ernesto Ruscio
Natalie Portman walk the red carpet ahead of the 'Vox Lux' screening during the 75th Venice Film Festival on September 4, 2018 in Venice, Italy. Photo courtesy of Getty Images.

NurPhoto
Stacy Martin walks the red carpet ahead of the 'Vox Lux' screening during the 75th Venice Film Festival at Sala Grande on September 4, 2018 in Venice, Italy. Photo courtesy of Getty Images.

Elisabetta A. Villa
Raffey Cassidy attend the 'Vox Lux' premiere during the 75th Venice Film Festival at the Palazzo del Cinema on September 04, 2018 in Venice, Italy. Photo courtesy of Getty Images.

Barcroft Media
Lady Gaga and Bradley Cooper walk the red carpet ahead of the 'A Star Is Born' screening during the 75th Venice Film Festival at Sala Grande on August 31, 2018 in Venice, Italy. Photo courtesy of Getty Images.

Daniele Venturelli
Chloe Grace Moretz, Luca Guadagnino and Mia Goth is seen arriving at the 75th Venice Film Festival on September 1, 2018 in Venice, Italy. Photo courtesy of Getty Images.

Stephane Cardinale – Corbis
Emma Stone walks the red carpet ahead of the The Favourite screening during the 75th Venice Film Festival at Sala Grande on August 30, 2018 in Venice, Italy.

Elisabetta A. Villa/Getty Images
Ryan Gosling and Claire Foy at the First Man photo call during the 75th Venice Film Festival at Sala Casino on August 29, 2018 in Venice, Italy.

Stefania D'Alessandro/Getty Images
Tilda Swinton walks the red carpet ahead of the 'At Eternity's Gate' screening during the 75th Venice Film Festival at Sala Grande on September 3, 2018 in Venice, Italy. Photo courtesy of Getty Images.

Ernesto Ruscio
Dakota Johnson walks the red carpet ahead of the 'Suspiria' screening during the 75th Venice Film Festival at Sala Grande on September 1, 2018 in Venice, Italy. Photo courtesy of Getty Images.

Stefania D'Alessandro
Lady Gaga making her arrival to the 75th Venice Film Festival for A Star Is Born on August 30, 2018 in Venice, Italy.

Jacopo Raule/Getty Images
Naomi Watts walks the red carpet ahead of the opening ceremony and the First Man screening during the 75th Venice Film Festival at Sala Grande on August 29, 2018 in Venice, Italy.

Stephane Cardinale/Corbis/Getty Images
Joe Alwyn walks the red carpet ahead of the The Favourite screening during the 75th Venice Film Festival at Sala Grande on August 30, 2018 in Venice, Italy.

Andreas Rentz/Getty Images
Jeff Goldblum attends The Mountain photo call during the 75th Venice Film Festival at Sala Casino on August 30, 2018 in Venice, Italy.

Stefania D'Alessandro/Getty Images
Jury member Clémence Poésy walks the red carpet ahead of the The Favourite screening during the 75th Venice Film Festival at Sala Grande on August 30, 2018 in Venice, Italy.

Daniele Venturelli/Getty Images
Hannah Gross walks the red carpet ahead of the The Mountain screening during the 75th Venice Film Festival at Sala Grande on August 30, 2018 in Venice, Italy.

Andreas Rentz/Getty Images
Nicholas Hoult walks the red carpet ahead of the The Favourite screening during the 75th Venice Film Festival at Sala Grande on August 30, 2018 in Venice, Italy.

Ernesto Ruscio/Getty Images
Lottie Moss walks the red carpet ahead of the opening ceremony and the First Man screening during the 75th Venice Film Festival at Sala Grande on August 29, 2018 in Venice, Italy.

Stephane Cardinale/Corbis/Getty Images
Araya Hargate walks the red carpet ahead of the '22 July' screening during the 75th Venice Film Festival at Sala Grande on September 5, 2018 in Venice, Italy. Photo courtesy of Getty Images.

Stephane Cardinale – Corbis
Izabel Goulart walks the red carpet ahead of the Roma screening during the 75th Venice Film Festival at Sala Grande on August 30, 2018 in Venice, Italy.

Dominique Charriau/Getty Images
Tye Sheridan walks the red carpet ahead of the The Mountain screening during the 75th Venice Film Festival at Sala Grande on August 30, 2018 in Venice, Italy.

Vittorio Zunino Celotto/Getty Images
Doina Ciobanu walks the red carpet ahead of the The Mountain screening during the 75th Venice Film Festival at Sala Grande on August 30, 2018 in Venice, Italy.

Vittorio Zunino Celotto/Getty Images
Charlotte Groeneveld walks the red carpet ahead of the The Favourite screening during the 75th Venice Film Festival at Sala Grande on August 30, 2018 in Venice, Italy.

Daniele Venturelli/Getty Images
Sara Sampaio walks the red carpet ahead of the 'A Star Is Born' screening during the 75th Venice Film Festival at Sala Grande on August 31, 2018 in Venice, Italy. Photo courtesy of Getty Images.

Stefania D'Alessandro