Lady Gaga and Bradley Cooper Have So Much In Common, Are So Nice To Each Other
The A Star Is Born co-stars are launching the first Oscars campaign based on being really, really generous with their compliments.
---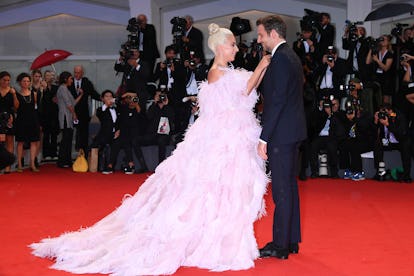 Dominique Charriau/Getty Images
In case you haven't heard, Bradley Cooper and Lady Gaga's remake of A Star Is Born—the fourth iteration of the film, with Gaga in the role previously played by Janet Gaynor, Judy Garland, and Barbra Streisand—is very good. Hollywood, as it turns out, loves A Star Is Born, a story about a young woman making it in Hollywood. An early screening of the film garnered suspicions it would be nominated for all the Oscars, and that hypothesis seems only to have been borne out by its Venice Film Festival premiere, where Gaga also rolled up in an extremely Gaga, extremely floofy pink Valentino gown. And while everyone is only saying nice things about A Star Is Born, Lady Gaga and Bradley Cooper, co-stars and actor-director pair, have only been saying nice things about each other. Like, suspiciously nice. Who is this nice?
Last December, in a first-look interview with Entertainment Weekly, Cooper, who is not really a musician, said his on-screen chemistry with Gaga, an actual musician, is "a tribute to her generosity as an artist" and that "she made me so comfortable from day one."
"You'll be blown away by what Stefani's created," Cooper assured the interviewer of his star's performance. That certainly set the tone for what has been a truly doting series of interviews since then, on both sides. During a conversation with Robert De Niro at the Tribeca Film Festival back in April, Cooper discussed his directorial debut, singling his star out for specific praise: "I really relied on her," he said. "Lady Gaga is just kind of a revelation."
On Friday, Cooper and Gaga returned to the cover of Entertainment Weekly for the magazine's fall movie preview. "When I heard that Bradley was attached to A Star Is Born and that he would not only be starring in it but that he would be directing it, I was so excited because I was already such a huge fan of him as a brilliant actor. I just knew that whatever he was gonna do was gonna be an explosion of his talent," Gaga said. They filmed a screen test at Gaga's home one afternoon, getting through 10 pages of script in a single day. ("Not everybody" can do that, Cooper said.) They even recorded a duet during that first screen test, during which Gaga was thoroughly impressed by Cooper's musicianship. "Within the first 15 seconds of the film, I'm like, This is a musician," she said.
And they have so many things in common! Maybe that's why they had such "immediate chemistry." They're both east coasters, both Italian; "Our families are very similar," Cooper said in the same interview.
I mean, think about this: Early on in shooting, Cooper approached Gaga with a makeup wipe. Usually, that'd be a strong cue for a woman to swiftly depart in the opposite direction, away from the intruder. But instead, as she told it during a press conference at the Venice Film Festival, shortly before their premiere was (auspiciously?) struck by lightning, she framed it as a liberating encounter. "He said, 'I want no makeup on your face,'" she said, as he daubed a bit from her face. "I always wanted to be an actress, and there can be 100 people in the room and 99 don't believe in you. You just need one to believe in you, and that was him."
At the same press conference, Cooper said he "fell in love with her face and eyes." So nice. So sweet. So generous. So many Oscars they want to win. Jennifer Lawrence's Oscars campaign for Mother! had a gruesome injury—she dislocated a rib during the film's climactic scene—but instead of high drama, Cooper and Gaga are running their campaign on high niceness.
Related: The A Star Is Born Soundtrack Has Some Spoilers, Leaves Plenty of Questions