Lady Gaga's A Star Is Born Blew the Audience Away at First Screening
The buzz is real and it's spectacular.
---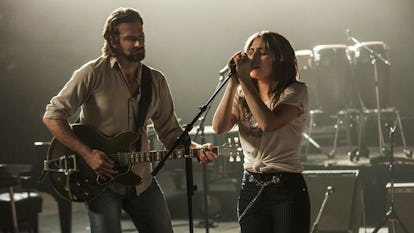 Warner Bros.
We've been hearing rumors that Bradley Cooper and Lady Gaga's update of A Star Is Born is something special for a while now, but those rumors mostly came without clarifying details such as who was saying it and how they actually got to see some sort of preview of the film. Well, Warner Bros. has reportedly screened the picture for the first time for an outside audience, and the reaction was just as phenomenal as all those rumors would have you believe.
According to Deadline, the studio screened the movie, which marks Cooper's directorial debut, for exhibitors (i.e., movie theater chain execs) at the Dolby Screening Room in Los Angeles yesterday.
"Reaction from top exhibs was through the roof, at least those I heard from," reports Deadline. "One major theater owner predicted Oscar nominations across the board including Picture, Director, Actor and Actress, and big box office when it opens October 5." Another exec agreed with the assessment while also praising the sound design (so there's that).
It's the fourth time Hollywood has made a film with the title and basic premise, and the first since 1976. That version's star, Barbra Streisand, has also claimed to have seen "parts" of it. "I'm really proud of him," she's said of Cooper. "He did a great job on this film."
Finally, we have some concrete evidence that there are indeed actual people out there who have seen the movie and thoroughly enjoyed it, and not just whispers emanating from the Hollywood ethers.
What's more is that Deadline is reporting that A Star Is Born may have its official world debut on August 31st at the Venice Film Festival. While the feature would premiere outside of competition, Venice is still a major hotspot for premiering potential Oscar-worthy films. Last year alone, both The Shape of Water and Three Billboards Outside Ebbing, Missouri premiered there.
Still, most of us will have to wait until the official October 5th wide release to see it for ourselves.
Related: A Star Is Born Trailer: The Lady Gaga Oscar Buzz Could Be Real
Miley Cyrus, Lady Gaga, and Nicki Minaj Truly As You've Never Seen Them Before
David LaChapelle, Do you want love or do you want fame (Lady Gaga), 2009.

© David LaChapelle Studio, courtesy of Taschen
David LaChapelle, Still I Rise (Tupac Shakur), 1996, California.

© David LaChapelle Studio, courtesy of Taschen
David LaChapelle, We Shine so Brightly, 2015.

© David LaChapelle Studio, courtesy of Taschen
David LaChapelle, Fallen friend on the walk of stars (Amy Winehouse), 2007.

© David LaChapelle Studio, courtesy of Taschen
David LaChapelle, Lost + Found. Part 1 cover, I Walk Out of My Prison (Miley Cyrus), 2017.

© David LaChapelle Studio, courtesy of Taschen
David LaChapelle, Superbass (Nicki Minaj), 2011.

© David LaChapelle Studio, courtesy of Taschen
David LaChapelle, We are Blessed, 2017, Hawaii.

© David LaChapelle Studio, courtesy of Taschen