The A Star Is Born Soundtrack Leaves Plenty of Questions
Unpacking the 34-song track list of the A Star Is Born soundtrack, the impact it may have on Lady Gaga's next album, and the small spoilers embedded in the names of the songs.
---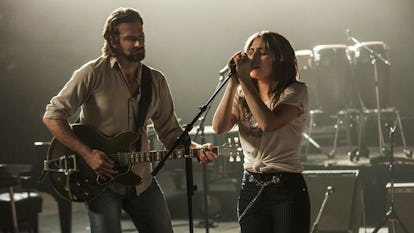 Warner Bros.
If A Star Is Born's melodramatic trailer, the incessant hype from the critics, and Lady Gaga's reported tear-soaked viewing of the film were not enough to make you believe that Gaga is really coming for that Oscar (and, by default, that EGOT), then the track list for A Star Is Born should do the trick.
Per Rolling Stone, the producers and songwriters Gaga and Bradley Cooper worked with on the soundtrack include Lukas Nelson, Jason Isbell, Mark Ronson, Andrew Wyatt, Julia Michaels, Justin Tranter, and Diane Warren. With production from geniuses like Ronson and songwriting assistance from pop writers extraordinaire like Michaels (she's responsible for ubiquitous earworms like Justin Bieber's "Sorry" and underrated summer bops like Selena Gomez's "Bad Liar") and Warren (she's been in the songwriting business for four decades and is heralded for her movie anthems), it seems unlikely that the soundtrack will fail to please.
Cooper and Gaga appear on 19 of the soundtrack's 34 songs (some are solo performances while others are duets), and the remaining 15 tracks are essentially just dialogue from the movie. While songs like "Fabulous French" and "Hair Body Face" are new additions to the fourth iteration of this movie musical, audiences may already be familiar with some of the tracks performed by Cooper and Gaga. "Shallow" and "Maybe It's Time" are both featured in the trailer, but the film also includes Gaga's covers of "La Vie En Rose" and "Somewhere Over the Rainbow." Every single one of these songs was sung live during the production of the film, which begs the question, will Gaga and Cooper release studio versions of these tracks, or are their live performances so good they won't even need to do that?
Another question that emerges after a quick glance at the track list: Will this soundtrack take priority over the production of Gaga's next album? Mother Monster has been getting weird again on Instagram (those bizarre, NSFW photo shoots must exist for some reason), which some fans take as a hint that Gaga is working on her sixth album. But how could she possibly have time to release new music while filming and promoting A Star Is Born, rehearsing for her upcoming Las Vegas residency, and preparing for awards season—unless she has already recorded some new songs and has been sitting on them for over a year? In April 2017, Gaga performed her single "The Cure" live at Coachella, in front of the very same audience for which she and Cooper performed songs from A Star Is Born while filming, so they would have had to leak or release "The Cure" anyway, even though it is notably absent from the soundtrack of the film. "The Cure" was definitely not a B side from Gaga's fifth studio album, Joanne, but it was possibly a single that could have launched the beginning of a new project before her A Star Is Born filming schedule interrupted her album release cycle.
One other major question the A Star Is Born track list may spark is: Why would they title track 26 "SNL" when that potentially spoils a plot point? Nobody wants to know before seeing the film that Saturday Night Live plays a role in the story that follows Cooper and Gaga's characters as they navigate their respective music careers. Nobody wants to imagine Gaga as Ally and Cooper as Jackson Maine negotiating the logistics of securing an appearance on Saturday Night Live with Lorne Michaels at 30 Rock. That should have been left as a surprise for the audience. Obviously, thinking about that song title requires some extrapolation, but the point still stands that the soundtrack could have benefited from keeping the remaining buzz surrounding the film shrouded with a tiny shred of mystery if they had just named the track "Saturday Night" instead.
Related: A Star Is Born Is Making Everyone Cry, Even Lady Gaga