A Star Is Born Is Making Everyone Cry, Even Lady Gaga
The star of the film spent her first few screenings with tears streaming down her face.
---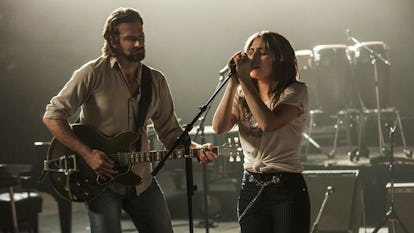 Warner Bros.
A Star Is Born may be one of the most hyped films of 2018, according to both its critics and stars.
The trailer for A Star Is Born was shown to a small group of critics at CinemaCon in April, and even back then those critics were adamant about pushing the film as a big tearjerker with major Oscar potential. So when the official trailer for the film was finally released for everyone else in June, and viewers of an advanced screening praised the film in July, that Oscar buzz gained some substance and any lingering skeptics seemed to disappear. Bradley Cooper's directorial debut is the fourth iteration of this story, after all, and each of the three prior versions of the film received nominations at the Academy Awards.
Lady Gaga and Bradley Cooper graced the cover of this week's issue of Entertainment Weekly as their characters Ally, the unknown bar singer, and Jackson, the country musician who discovers her and catapults her to stardom, in official stills taken for the movie. Apparently, their onscreen connection in the film was so fiery, and their performances so powerful (just like those critics said), that Lady Gaga watched the entire film with tears streaming down her face. "I just remember that from the very first frame, I just burst into tears," she said. "I literally cried watching the whole movie," she went on. "I had to watch the film several times before I could watch it as an audience member, if that makes any sense?"
Look, when you know you're potentially on the fast track to receiving an Oscar nomination (and therefore headed toward an EGOT) for your reportedly phenomenal breakout film performance, you might shed a tear or several. Lady Gaga is coming for that Oscar, whether you like it or not (but mostly people seem to really, really like it). You can't blame her for believing her own hype this time around.
Gaga and film critics are certainly not the only ones to have been blown away by the final cut of the film. From start to finish, A Star Is Born took Cooper three years to make, and he admitted that seeing the fruits of his labor felt more gratifying than any sort of hype around the film. "I would've been terrified if it wasn't the movie I wanted to make or I felt like I had left something on the field. We haven't left anything on the field. I mean, it's all there," Cooper told Entertainment Weekly. "Whether it works or not . . . I mean, look, talk to me if it's a bomb and see how I feel. But I can really say that I'll take the heat or whatever it is, because it's the movie I wanted to make."
When A Star Is Born finally hits theaters on October 5, try to hold back your tears (if you can).
Related: Lady Gaga's A Star Is Born Blew the Audience Away at First Screening