Lady Gaga Did a NSFW Photoshoot With an Octopus Beanie Boo, Possibly to Promote Her Sixth Album
Are her latest octopus-themed photos a hint about her next album?
---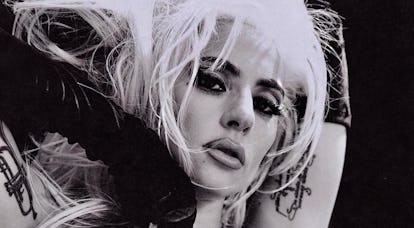 instagram.com/ladygaga
Between A Star Is Born and her Las Vegas residency, we are going to be seeing a lot of Lady Gaga this year. But when the art pop singer took to Instagram today, she showed fans even more of herself than previously anticipated. Lady Gaga shared the results of a recent photoshoot with photographer Eli Russell Linnetz, and it is really something.
Only Lady Gaga could make posing with a Beanie Boo NSFW, as she did with an Octopus stuffed animal. Gaga shared a photo of the eight-armed creature beneath her backside on Instagram, without as much as a caption that gave any context. Gaga shared a handful of photos from the shoot, where she wears '90s-indebted lip liner and a bondage getup.
Could the octopus be a hint about her upcoming sixth album? It seems likely considering tentacles were a focal point of Gaga's Coachella set in the opening video. It's also one more nod to Yayoi Kusama, an artist Gaga has taken inspiration from before. Then again, it could just be her own fascination with the creature. During her Artpop tour, Gaga wore a polka dot-laden outfit that had a skirt and headpiece made out of tentacles.
What we do know about Gaga's sixth album is that she brought in electronic artists and producers Boys Noize and Sophie for sessions. Boys Noize confirmed that when the German artist, born Alexander Ridha, tweeted, "Lady Gaga spilled water over my modular system ?" in April. She replied by joking, she actually "resurrected it with a blow dryer. It was a christening."
Meanwhile, Sophie revealed of her collaboration with Lady Gaga, "I'm working on a lot of different things. If it comes out, then that's cool. But yeah, she's a cool person."
Gaga, on the other hand, has been reluctant to talk about her followup to 2016's Joanne, or even give a time frame for it. That's likely because she's been spending so much of her energy working on another music project: the soundtrack to her and Bradley Cooper's remake of A Star Is Born. Gaga recently opened up about how she identifies with her role, telling Entertainment Weekly, "when I wrote my earliest hits, people were trying to take my songs and give them to other people. I was, like, clutching to them for dear life, thinking, 'I finally wrote a hit. I can't give it away." With Gaga's recent spree of press photos it might not be long until we hear her next hit.