Who Is Halsey Trying to Be?
Chart-topping pop star, EDM singer, alt artist, spokesperson for her generation. Which one is it?
---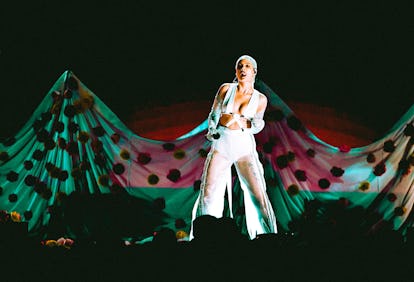 Ethan Miller/Getty Images
On Friday, Halsey will release her sophomore album—despite false reports that Urban Outfitters leaked it early (which the retailer actually did do with her first album)—and Hopeless Fountain Kingdom should be the one that cements the self-described alternative artist as a pop star after her 2015 breakthrough, Badlands. That debut record included the hit song "New Americana," with its fairly infamous lyrics: "We are the new Americana / High on legal marijuana / Raised on Biggie and Nirvana."
Along with early interviews where Halsey, née Ashley Frangipane, was aggressively candid about being bipolar, bisexual, and biracial, these lyrics opened her up to a backlash for what many saw as a bald attempt to position herself as a spokesperson for this post-Obama, post-social media generation. A fairly high mantle to grab a hold of for someone not even then 21 years old, much less an electronic music singer.
For better or worse, one of Halsey's earliest brushes with notoriety came in 2012 via a parody song, since removed from the internet, about Taylor Swift and Harry Styles ("The Haylor Song"). She later walked it back, saying that she regretted ever making it, but that strain of teenage troublemaking runs in her music and in her actions, even if she never quite owns up to it. Instead of leaning into the role of the pop enfant terrible, like, say, Rihanna (whom she's been accused of borrowing heavily from), Halsey went for authenticity. Last year when she gave an interview to Rolling Stone, she spoke of her fondness for the guitar, even if Badlands was an album meant for a warehouse, not a rock club. As she said then: "A guitar can be so human, so sorrowful, so angry, and I wanted to figure out how to achieve that vibe without having to actually use guitars."
An early 2014 single, "Ghost," was released on SoundCloud and got Halsey signed to the venerable electronic label Astralwerks, which has been home to other hard-to-categorize crossover acts like Bat For Lashes. Early on, her music was uncomplicated, unburdened electropop, the distinguishing characteristic being her lyrical honesty about her past relationships, which gave an otherwise generic sound a personality. Despite the commercial success of Badlands, which debuted at No. 2 on the Billboard 200, there was substantial critical pushback, mainly in the form of the question: Besides her identity markers and outspokenness, what are Halsey's strengths as an artist?
She can be funny on Twitter and Instagram, but that sense of humor is rarely found in her music, where she is currently operating in the mode of a major pop star, and not the niche artist she likes to style herself as. Such scaling up by its nature (more production, more money at stake) smooths out the moments of spontaneity, which is fine for Katy Perry, but might alienate some of Halsey's audience.
Last year, following the success of Badlands, Halsey wound up on a fast track into pop stardom when she was featured on the massive Chainsmokers hit "Closer." The song sat at No. 1 on the Billboard charts for 12 weeks, and appeared to be the tipping point for where her career was headed, a direction that she hinted at in 2015, when she appeared on Justin Bieber's EDM-leaning Purpose. It seemed like Halsey was about to leave the Imagine Dragons alternative electronic rock elements behind for good.
But recently, as pop stars like Noah Cyrus and Selena Gomez have been acclimating to the new EDM norm, Halsey to her credit has pivoted away from the door she'd already nudged open. "Now or Never," the debut single from Hopeless Fountain Kingdom, was a hard left turn from the maximalism of "Closer," or even a song like "New Americana." Lyrically, relationship blues remain central for the singer, but much of the pomp of Badlands has been stripped away or scaled back. Halsey's most recent singles, "Eyes Closed" and "Strangers," are slow ballads that have something of a post-R&B burn to them, rather than the anthems that came before them. Still just 22, Halsey, an artist who arrived seeming to know what she wanted to say, continues to shape-shift. For as hard as she's worked to identify herself to us, she's still looking for another identity to try on—and then, once we've pinned her down, to discard.
See the women of Sofia Coppola's "The Beguiled":