THE MULTIPLEX WHERE IT HAPPENS
The Hamilton Film Was Secretly Shot in 2016
And it's coming to theaters in 2021.
---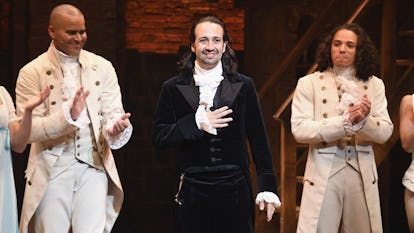 Nicholas Hunt/Getty Images
Hollywood wasn't going to let a Broadway hit the size of Hamilton escape its grasp. Indeed, rumors of an adaptation of Lin-Manuel Miranda's milestone hit have been circulating for years. Wha we didn't know is that a silver screen adaptation was shot all the way back in 2016 with the original cast, and, as confirmed today, it will be released by Disney on October 15th, 2021.
How did they pull it off? Well, the version we're getting is a "live-capture" of the original musical shot at Broadway's Richard Rodgers Theatre by stage director Thomas Kail (more recently of Fosse/Verdon). The emphasis here is on trying to transfer the feel of watching Hamilton from a primo seat to multiplexes across the country.
"I'm so proud of what Tommy Kail has been able to capture in this filmed version of 'Hamilton' — a live theatrical experience that feels just as immediate in your local movie theater," said Miranda according to Variety.
Unfortunately this means anyone who has ever spent time daydreaming about how Hamilton could work in a true movie context (with multiple historically accurate sets and large crowd scenes, amongst other elements) will be left wanting.
While we're sure the "Hamilfam" faithful love the idea of the original cast remaining intact, the thought of big stars taking the roles is always a fun game for the rest of us.
Surely many out there have wondered what Beyoncé as Eliza or Will Smith as Aaron Burr might be like. Besides, Broadway-to-film controversy always makes for some memorable drama and gossip (see: Patti LuPone's outright disdain of Madonna since Evita).
Though, if this project was filmed back in 2016, it only makes sense to release it in theaters. It's also perhaps a safe bet in the wake of the disaster that was Cats (another history-making musical that proved difficult to adapt).
It also doesn't mean that a true film adaptation of Hamilton won't ever happen. Just give it a decade or so. After all, Mean Girls: The Musical is already being turned back into a movie. Anything can happen.
Related: Cara Delevingne, Supermodel Friends Become Latest Celebrities to Swoon Over Hamilton