Lin-Manuel Miranda Will Star in "Hamilton" Again in Puerto Rico
Just call him Alexander Hamilton.
---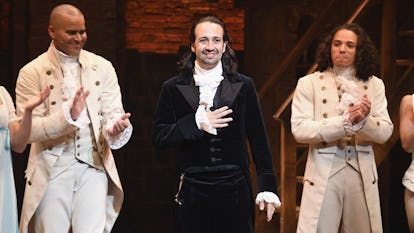 Nicholas Hunt/Getty Images
He'll be back, soon you'll see. Just with a slight change in venue.
Lin-Manuel Miranda, the king of the modern Broadway musical, has announced he'll be reprising his role as Alexander Hamilton in Hamilton for a very admirable reason.
Per The Hollywood Reporter, Lin-Manuel will be taking the musical to Puerto Rico for a limited engagement in early 2019, where he'll be doing a three-week run from January 8 through January 27. Specifically, Hamilton will be performed at Teatro UPR, which is the main theater at the University of Puerto Rico's San Juan campus.
In a statement, Miranda, who is of Puerto Rican descent, said that although he was always ultimately planning on bringing Hamilton to the country in some capacity in the near future, the aftermath of Hurricane Maria made his idea even more urgent. "Bringing Hamilton: An American Musical to Puerto Rico is a dream that I've had since we first opened at The Public Theater in 2015," he explained. "When I last visited the island, a few weeks before Hurricane Maria, I had made a commitment to not only bring the show to Puerto Rico, but also return again to the title role. In the aftermath of Maria we decided to expedite the announcement of the project to send a bold message that Puerto Rico will recover and be back in business, stronger than ever."
While ticketing information is not yet available for those interested in attending — there's still a year wait, after all — Lin-Manuel and his producing partner, Jeffrey Seller, said they are going to do everything within their power to ensure that "a large proportion" of seats for each performance will be available by lottery, and will only cost $10 each.
Miranda was one of the most vocal celebrities when it came to criticizing President Trump's at-times indifferent and insulting reaction to the devastation on the island territory. "You're going straight to hell, @realDonaldTrump," he wrote on Twitter. He then listed an all-star crew of Latin American music stars, including Camila Cabello, Gloria Estefan and Jennifer Lopez, for the charity singer "Almost Like Praying," and also recently announced a $2.5 million recovery fund in partnership with a non-profit group that will be dedicated to recovery.
He's managed to do all this while working on his many other projects, including work on a potential Game of Thrones competitor for Showtime. He's a busy man, but he's clearly not forgetting his roots.
Related: Lin-Manuel Miranda, Celebrities Blast Trump Over Latest Disgraceful Puerto Rico Comments
See What's Trending in W Video: