Happily Ever/After
Happily ever after does exist for high school sweethearts, Christy and Gary Winston, who downsized their lifestyle and fled the rat race of corporate America to the create the hip and simple children's line,...
---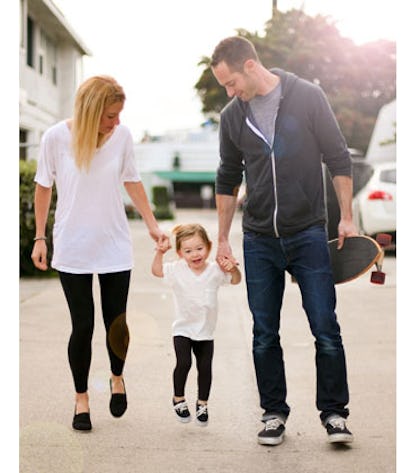 What was your inspiration for designing a children's clothing the line? CW: My husband is the entrepreneur. I have no risk-taking in my blood at all. We always kind of knew we wanted to do our own line. It was just finding the right niche I guess. When I was pregnant we were brainstorming for this adult brand and it didn't feel right. Meanwhile, I kept telling Gary, I can't find anything for the baby, and I cannot find anything that fits my taste in kid's clothes. I just wanted things I would wear, and we couldn't really find it, especially at a doable price. The more we kind of thought about it, the inspiration came from our own closet. I guess it has always been our filter, if we wouldn't wear it, then we are not going to make it—except for the onesies, of course.
How was Ever/After born? CW: It was almost decided for us. Ever was about 1 ½ years old. Gary was at Pac Sun, and I was at James Perse. And within a week, we were both laid off. It was December 4th, 2009. It was crazy. I was like, 'okay good timing'. We had some financing for the company, and we cut down on costs at home. We went from a three-bedroom apartment to a one-bedroom. We started shopping at the dollar store (laughs), it was fun actually. It was refreshing. I never go get my hair done anymore, because I was spending a ridiculous amount—so I switched to box dying, which I never thought I'd do, and Gary cuts my hair, which is kind of a mess… (laughs). I think that it taught us so many lessons, because before, we were the definition of American consumerism. It was like every single weekend all we did was shop. We actually love the one bedroom. Last night we all slept under the Christmas tree on the air mattress, and we were like "Oh this is cozy, it's like we are in a hotel or something!"
CW: The more we talked about it, we felt like we should be giving back in a substantial way, and that's kind of where the 25% of the profit of donations came in. That's substantial, and I think we were also really encouraged to see [Blake Mycoskie's footwear brand] Toms doing so well. I give them a lot of props. We know we might not be millionaires over this, which is actually fine with us, but I just think it's going to be more meaningful for us.
The charities we chose are all children's charities. The one that is in Uganda, Africa, Loving Hearts Babies Home, was initially the one that just pierced me. I heard one sentence about it and I was like okay I'm sold. It's a home in Uganda that takes in kids up to age 2 who have been abandoned or orphaned. They try to get them out of the system, which I thought was really kind of unique. They want to give them a place in a family either in Uganda or Internationally. The other one is Lo Mejor Del Trigo, based in Mexico. That's the one Gary and I are personally involved in—we go to Mexico about every month, and we do medical clinics and clinics for the women. The third is The Minnie Street Learning Center in Santa Anna. I was volunteering there last year, and it's a really cool idea. They bought out one of the middle sections of this housing unit that was normally run by gangs. They came in and settled right in the center of the housing unit and started this learning center for the kids in the community. They just tutored them after school. They are all about trying to get the kids to graduate.
CW: We recently started showing in a showroom in LA. Before that it was just me taking the line around and showing people. That's how we started out with Lisa Klein, and that was a huge highlight for us. And she was selling out. It was nuts, and we were calling for re-orders constantly. We are also in other smaller boutiques, and as of November 2010 we are in Fred Segal.
What would you recommend to others thinking about but are too afraid to start their own business? CW: One of our friends told us, when he found out we were both out of work, "People rarely regret taking risks, it's those who don't take risks that quietly regret them." I mean, it's just amazing to see where we are now, and personally, just taking that leap of faith and knowing how it's going to change our lives forever, even if Ever/After fails tomorrow, I'm just 100 percent absolutely thrilled that we did it.