Socialite DJ Harley Viera-Newton's Wedding Was a Floral Dream on Instagram
The DJ got hitched on Saturday surrounded by flowers and It girls like friend Alexa Chung.
---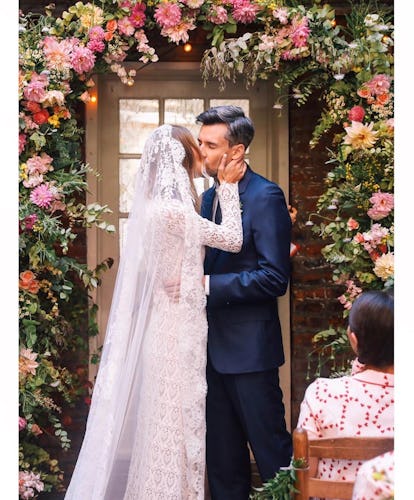 Courtesy @harleyvnewton.
DJ and designer of headphones and dresses Harley Viera-Newton got married on Saturday, October 21 to Ross Schwartzman, aka DJ Ross One. DJ weds DJ. The music at the reception must have been killer.
The pair tied the knot in New York City surrounded by Alexa Chung and some other people who are not Alexa Chung. Kate Bosworth commented "This is the loveliest video ❤️" on Alexa's Instagram of husband and wife making being showered with confetti, so, maybe Kate was there, but then again, maybe not! Who can say. Poppy Delevingne commented "????" on one of Harley's Instagram of herself as a kid in a wedding gown, which could mean something. Or nothing! She also wrote "Thinking of you my ANGEL ????" on Harley's close-up of details on her dress, so maybe she was invited but couldn't make it.
There's more: Christian Siriano commented "Congratulations have a beautiful day! ❤️❤️" on the same picture. Jessie Ware wrote "Congratulations!!!!" on Harley's insta of herself kissing her new husband at the altar. DJ Samantha Ronson wrote "Mazel!!!!!" on Ross' post of the same kiss. Again, make of all this what you will. It is raw information we offer to your interpretation.
On Ross's photobooth pictures post, Cassie Coane commented, "My best friends wedding" and "Me me me" and "I've lost it." Viera-Newton served as a bridesmaid to Coane this past summer, where the wedding party wore feminine and floral frocks. Aha, a picture begins to emerge.
The theme of Harley's own nuptials appears to be "colorful flowers" and it's honestly downright gorgeous. The bride wore a lace-y dress and matching veil that is also gorgeous. Check out the pictures from and about the envy-inducing event here:
Feel free to leave your own comment in celebration of the newlyweds! But positivity only, please. A union this gorgeous deserves nothing less. And congrats, Harley and Ross!
The Perfect Summer Dress from Harley Viera Newton
Harley Viera-Newton, Annabelle Dexter-Jones, Lily Kwong, Leigh Lezark, Kate Foley. Photo by BFA.
Jet Zandbergen, Derlyn Perez, Madeline O'Sullivan, Vanessa Lee, Maira Moura. Photo by BFA.
Leigh Lezark. Photo by BFA.
Kate Foley. Photo by BFA.
Alexa Chung. Photo by BFA.
Harley Viera-Newton, Sarah Hoover. Photo by BFA.
Martha Hunt. Photo by BFA.
Ian Bradley, Adam Selman. Photo by BFA.
Lily Kwong , Kate Foley, Harley Viera-Newton. Photo by BFA.
Tracy Antonopoulos, Natalie Joos. Photo by BFA.
Giorgia Tordini. Photo by BFA.
Atlanta de Cadenet. Photo by BFA.
Laura Love. Photo by BFA.
Harley Viera-Newton, Timo Weiland. Photo by BFA.
Ann Dexter Jones. Photo by BFA.
Amirah Kassem. Photo by BFA.