Harry Brant's New York Fashion Week Photo Diary
A boy, a blizzard, and a bevy of stylish beauties.
---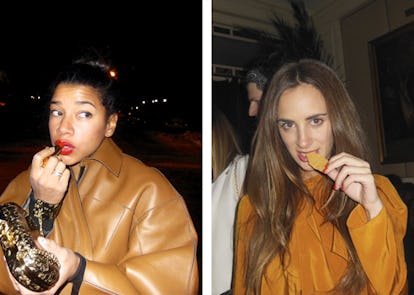 The Moncler dinner at the Beatrice Inn was an intimate event—not "fashion intimate," which means at least 60 guests, but intimate intimate. It was held in the back room of the refurbished restaurant, and included Hannah Bronfman, Fabien Baron, Theophilus London, Yi Zhou, Elisabeth Von Thurn Und Taxis, Aurélie Bidermann, and Laure Heriard Dubreuil. After a few hours of conversation, it was time to play in the snow, which was still fresh and shining from the previous day's storm.
Elisabeth Von Thurn Und Taxis and I were incredibly early to the Thakoon show, so we decided to kill time in a place where we could feel elegant and intellectual: the local CVS. I lounged on piles of toilet paper, perused the gum selections, and examined every type of energy drink.
After the Tommy Hilfiger show on Sunday night, I headed uptown to Giovanna Battaglia and Vladimir Roitfield's house warming party. Their Upper East Side townhouse was exquisite: limestone, a gallery space, and moldings as far the eye could see. And it goes without saying that Gio's closet—filled with embroidered Dolce & Gabbana and every "It" item of the season—was the next best thing to nirvana.
It was the perfect way to end the weekend, not only because I got to celebrate with friends, but also because I got to walk through a person's home and judge them.