Harry Potter and the Cursed Child Has Already Worked Its Magic on Broadway Critics
Even former skeptics are enchanted with J.K. Rowling's Broadway play.
---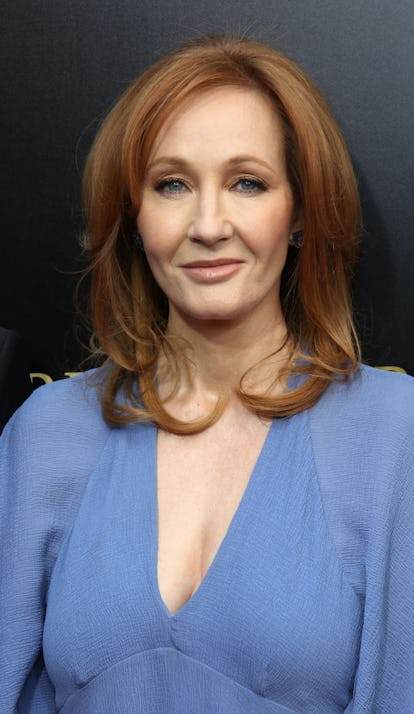 Walter McBride/Getty Images
Harry Potter and the Cursed Child is working its magic on Broadway, and critics are receiving it well.
At the premiere of J.K. Rowling's play Sunday night at the Lyric Theater in New York, the wizarding world came to life onstage with what are being called "thrilling" special effects. Picking up exactly where the final installment of the books, Harry Potter and the Deathly Hallows, ends, The Cursed Child brings a middle-aged Harry Potter, Ron Weasley, and Hermione Granger back to Platform 9 and 3/4 while they bid their teenaged children farewell as they head off to Hogwarts. And it's not just for kids—the play and its exploration of adult themes tied to the wizarding world is apparently a "must-see" for parents and children both.
It's clear that critics are enchanted with the eighth installment of the Harry Potter universe, which Rowling brought from London to New York with playwright Jack Thorne and director John Tiffany at the helm. The New York Times claims the play "raises the bar for Broadway magic," Vulture heralds it as "a remarkable and fitting addition to the Potter canon," and Slate praises its "clever illusions and gorgeous special effects," while Rolling Stone* calls the play a "triumph of epic proportions, not only heaven for Potterheads, but a marvel of stagecraft that will soon be the stuff of legend."
Clocking in at just over five hours long, Harry Potter and the Cursed Child is the answer to Broadway's other sensational, larger-than-life two-part phantasmagoria that was recently imported from the West End—Angels in America, which holds a nearly eight hour runtime.
At the play's opening night, Rowling was present along with comedian and 2 Dope Queens host Jessica Williams, who announced her role in the upcoming Fantastic Beasts: The Crimes of Grindelwald. Williams will play Professor Eulalie "Lally" Hicks, a teacher at the Ilvermorny School of Witchcraft and Wizardry, who will incidentally take on an even bigger role in the third installment of the Fantastic Beasts franchise.
Related: The Wizards Return to Hogwarts in Fantastic Beasts: The Crimes of Grindelwald First Official Trailer